Overview
The Nutrition Calculator allows customers of your dining facility or restaurant to visit your website and create a virtual meal using the food items you serve. Customers then can review nutritional data of that meal and customize it with different quantities, toppings, condiments, etc.
Customers have the option of searching for a food directly by name or by using a drill-down approach where they begin by selecting a meal time, then a restaurant or serving line, then a food group, and finally a food.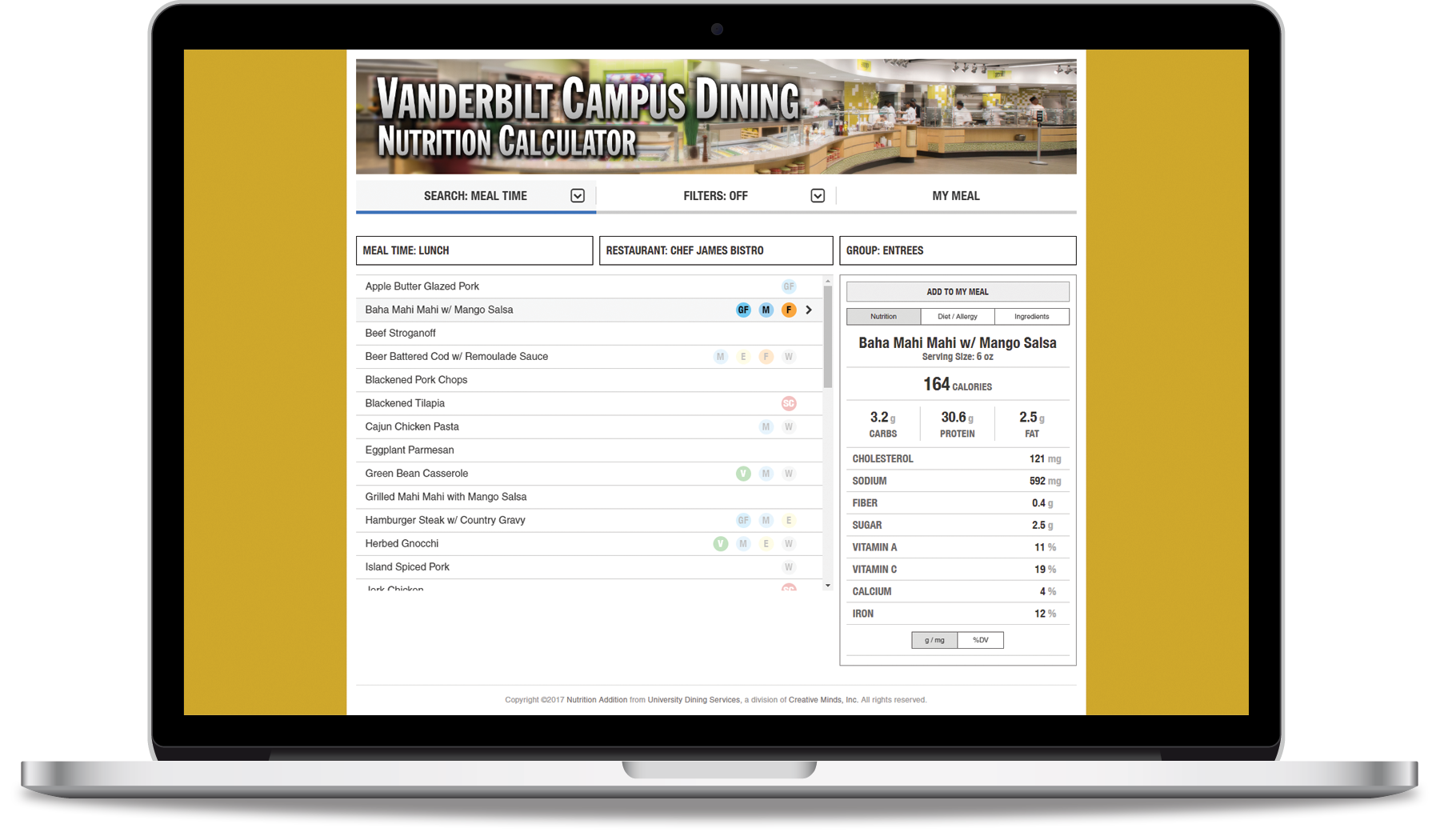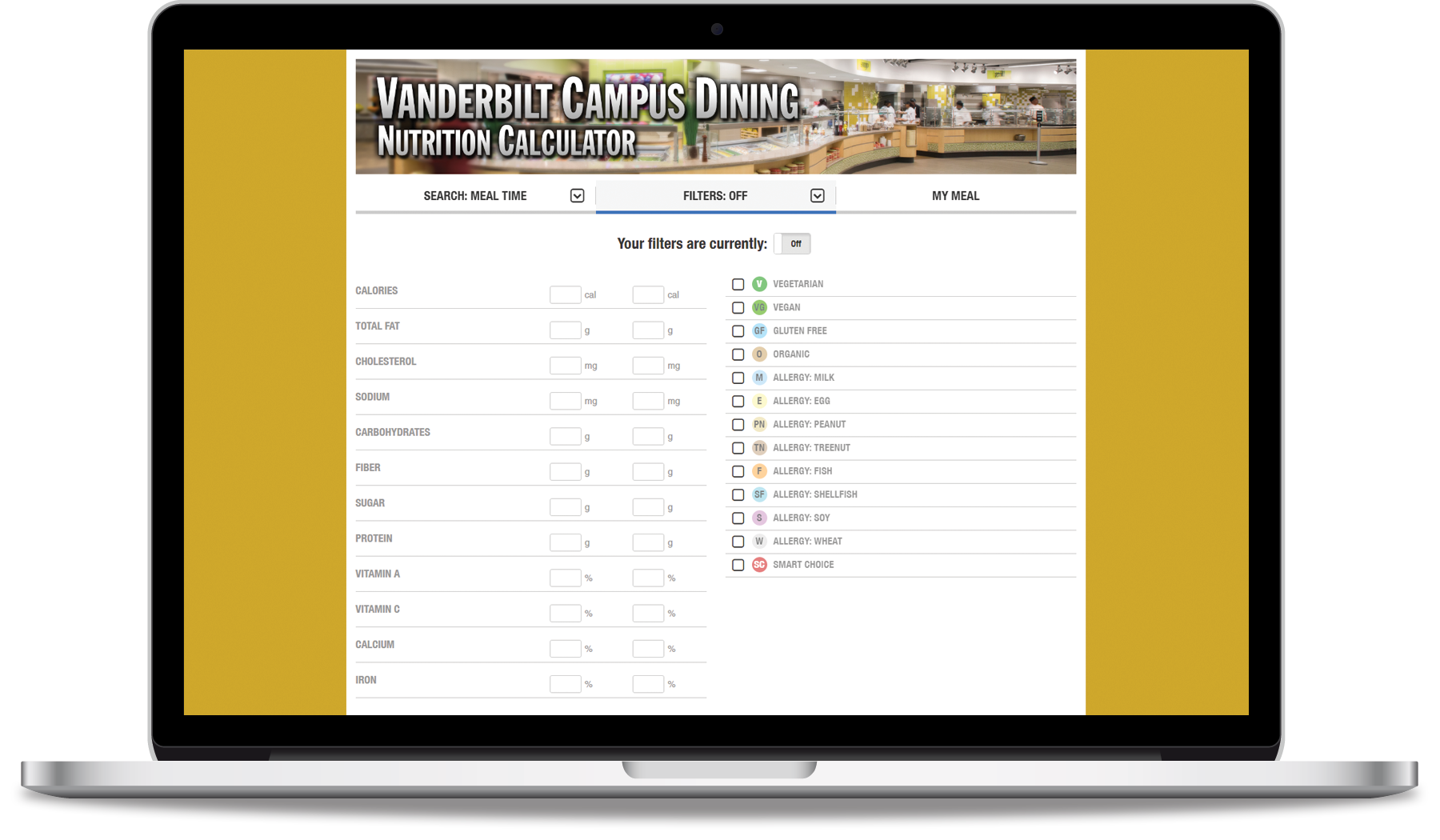 Filters
During the search for foods, customers have the ability to filter their results based on nutritional range or by diet/allergy concerns.
For example, customers may want to find foods under 500 calories with at least 10 grams of protein that are vegetarian and do not contain wheat. This is all possible with the filters section. Results that do not meet the customer's criteria will be grayed-out while matching foods will be featured in bold.
Meal Overview
The My Meal tab gives the customer a look at all of the foods and toppings added to the meal. Each nutrient is shown where quantities can be adjusted and toppings can be toggled on/off.
Food subtotals are shown so customers can grasp the complete nutritional value of a food with the toppings chosen. And at the bottom of the screen, a grand total line appears to better understand the impact this meal has on daily nutritional suggestions.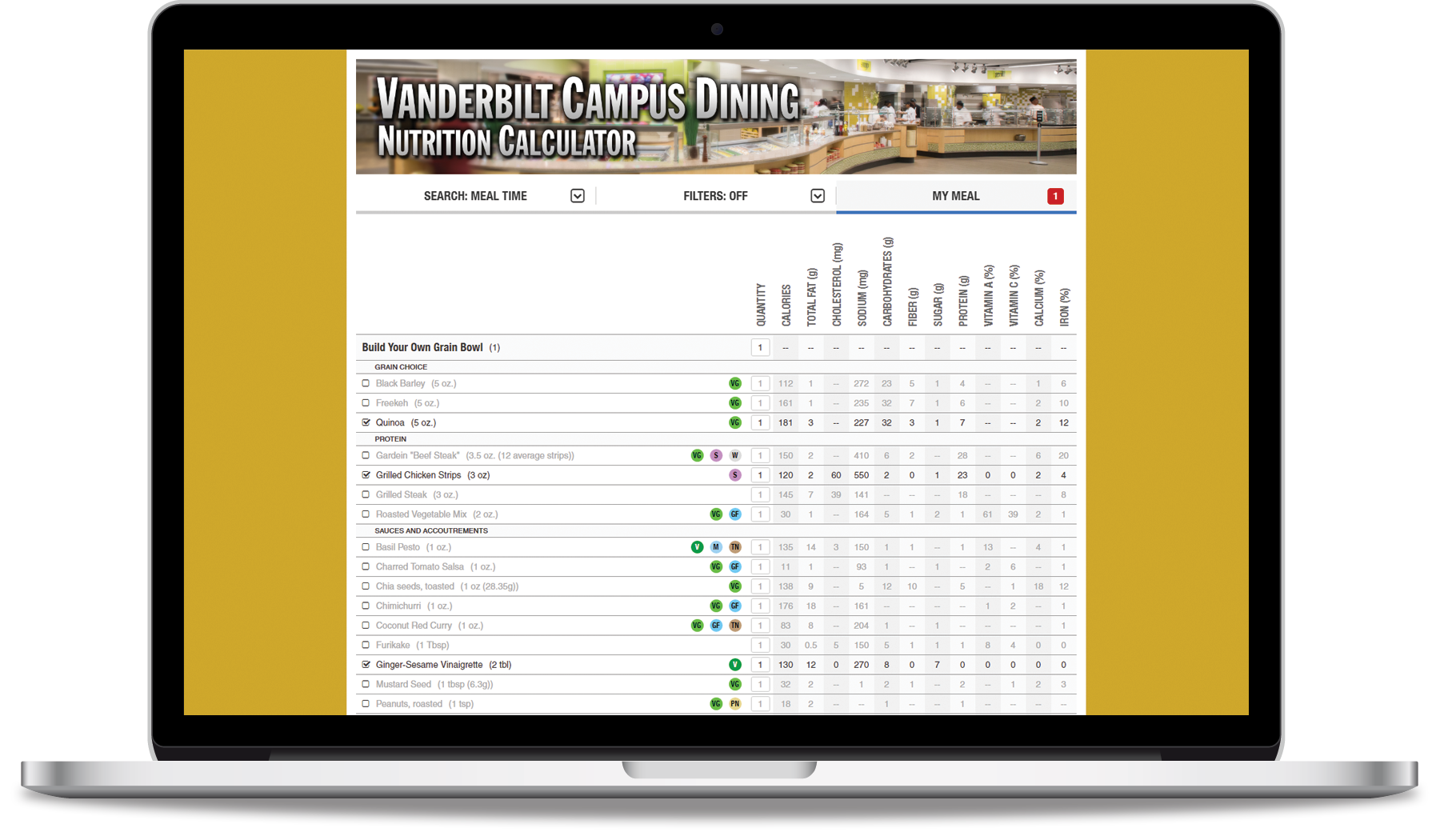 Extensions
As powerful as the Nutrition Calculator is, it also works with a variety of Nutrition Addition extensions to enhance its capabilities and functionality.
Additional Custom Icons
Use up to 5 more unique icons.
Food Exporter
Download all food data to a CSV file.
Food Filters
Do bulk changes to food names, nutrients, etc.
Food Importer
Quickly add foods from a CSV file.
Fourth Meal
Late Night? Brunch? It's a meal other than Breakfast, Lunch, or Dinner.
Franchise Library
National franchise food lists with nutrition values.
Inline
Embed the Nutrition Calculator in a page on your website.
Label Printer
Print FDA-style nutrition labels for individual foods.
Nutrient Database
Nutrition information for common foods provided by the USDA.
Place Card Printer
Print off food names to be used in your serving lines.
QR Code Generator
Generate QR codes for a food's nutritional information.
Visit the Extensions page for more information and individual pricing.
Central Food Library
The power of the Nutrition Calculator is the central food library where you enter a food once and then can reuse it multiple times at various serving lines for multi-concept operations. Then if you change providers or alter a recipe, making nutrient changes is simple, as you only have to make a change to one food, and it will be reflected wherever that food is presented.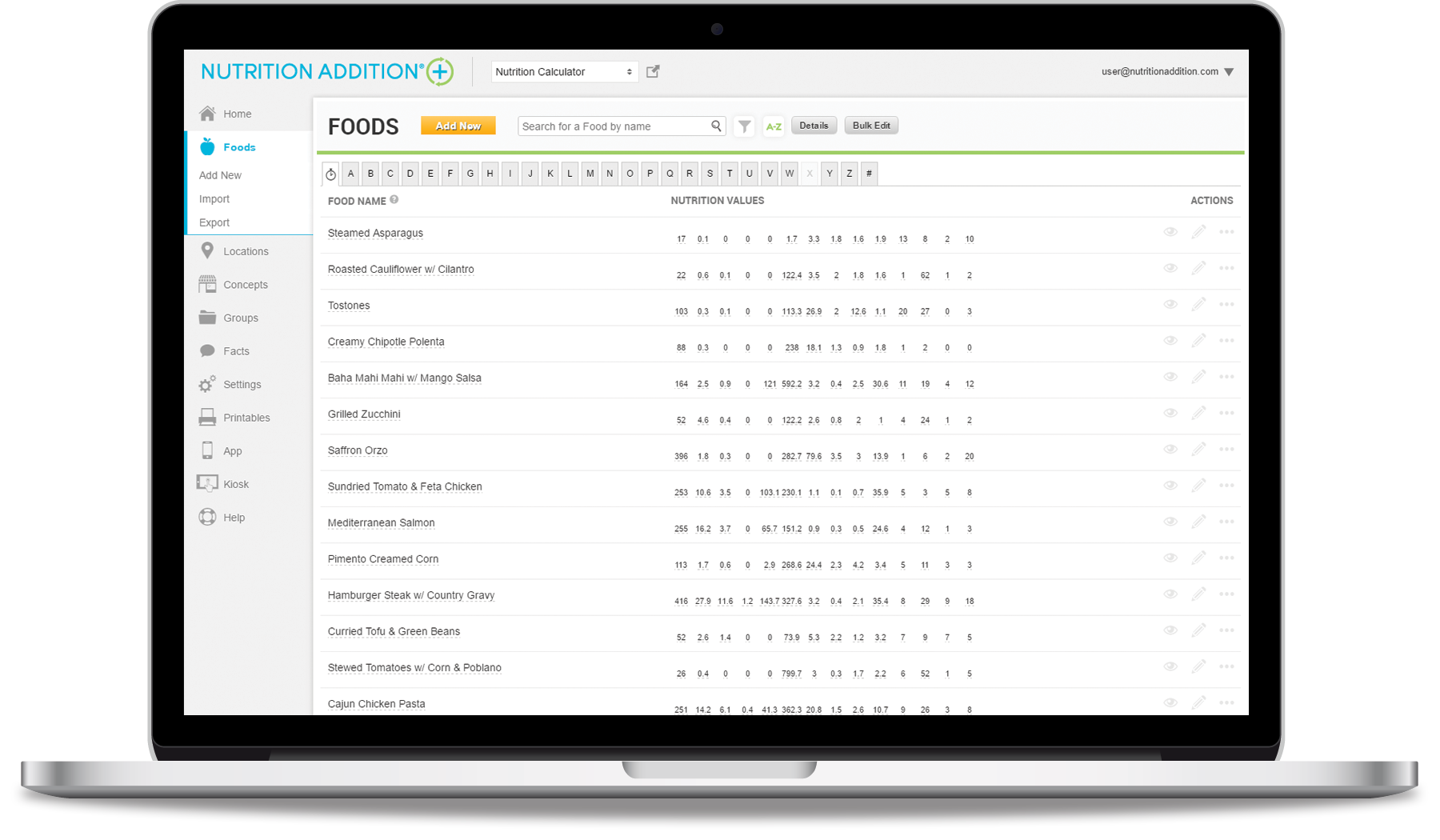 Facts & Ingredients
To help promote healthy eating choices, the Nutrition Calculator comes equipped with over 20 preloaded facts you can assign to various foods in order to help educate your customer about the benefits certain foods offer. Additionally, the option to include a prepared food's ingredient list can also alert health-conscious customers.
Administrative Control Panel
The Nutrition Calculator comes with an easy-to-navigate control panel. Inside you are able to adjust values for any food at any time from any computer with internet access. Organize your central food library as well as locations, concepts, and groups that best represent your physical setup.
Each account can have multiple users with access to the back end. Depending on your needs, different users can have different levels of access to better control how and when data is altered.
The Nutrition Calculator is capable of accepting information for the following nutrients:
Calories
Total Fat
Saturated Fat
Trans Fat
Cholesterol
Sodium
Carbohydrates
Dietary Fiber
Sugar
Added Sugars — New
Protein
Vitamin A
Vitamin C
Vitamin D — New
Calcium
Iron
Potassium — New
Diet & Allergy Icons
Users with special dietary concerns can easily be accommodated with the Nutrition Calculator. Vegetarian, vegan, gluten-free, organic, kosher, and halal icons are included by default. Icons also denote the eight most-common allergies (milk, egg, peanut, tree nut, fish, shellfish, soy, and wheat). And if you have a special icon you desire to incorporate, that can happen too, whether it's sugar-free, smart-choice, or a special franchise your program is promoting.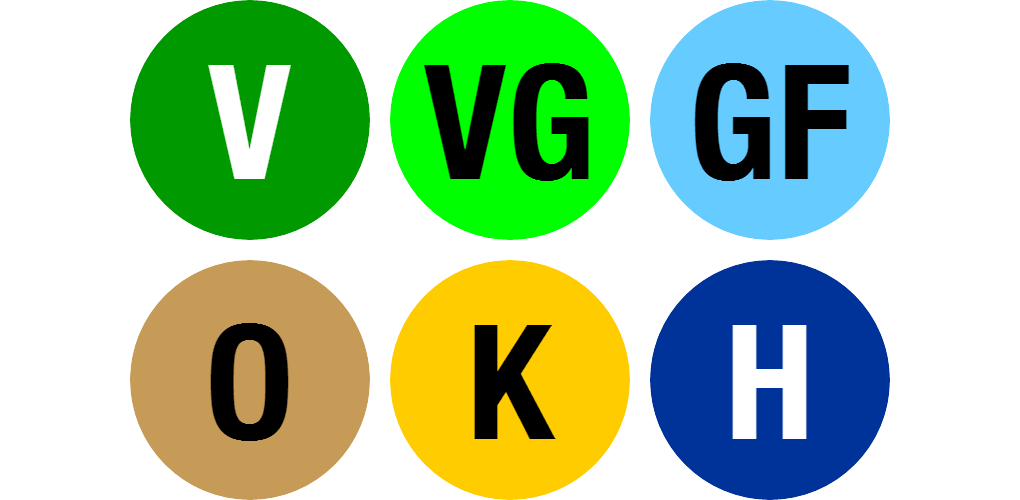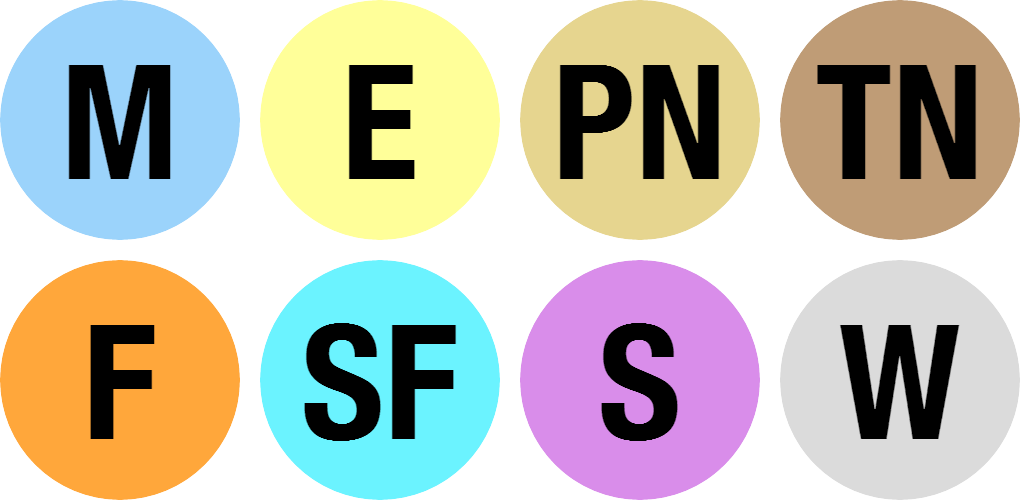 Allergy and dietary icons can be customized to any color and any label. For example, if you prefer to say "Made without Gluten" versus "Gluten Free," that is possible, and you can even use a custom image for any of the icons if you need to say more than the 1- or 2-letter default.
Ready to try out the Nutrition Calculator for yourself?
Responsive Design
The Nutrition Calculator has been developed to be responsive to different screen sizes. Built on the Bootstrap mobile-first responsive framework, users of phones and tablets will have as functional an experience as users of desktops.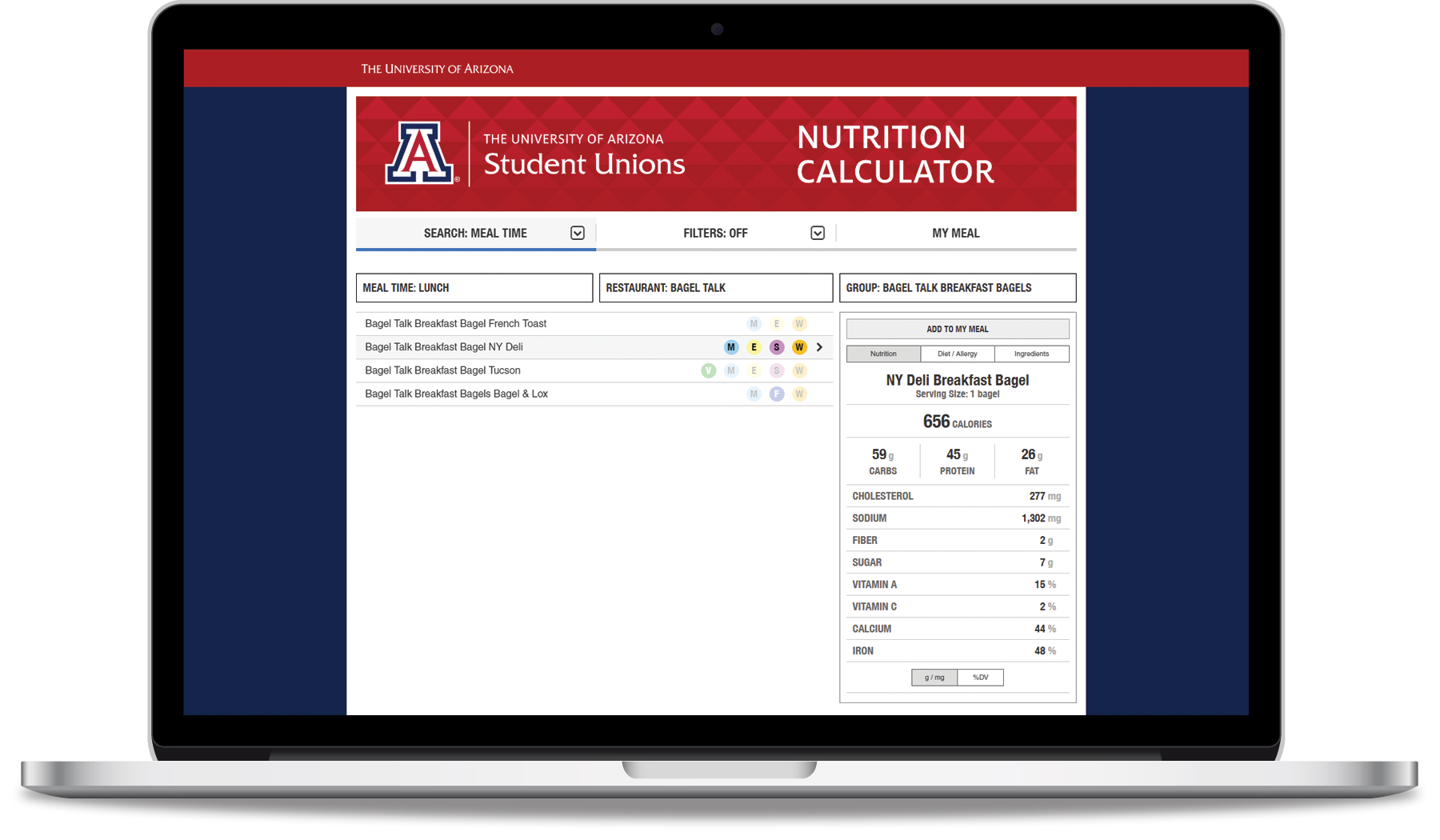 Custom Styling
Since the Nutrition Calculator lives on the Nutrition Addition servers, we offer you the ability to customize its appearance. Each client has the ability to choose a custom header graphic and a custom background color to match your own website. Additionally, we offer a "super header" zone where you can prepend design elements that may be integral to your site's design.
Request a demo to see the Nutrition Calculator and the control panel in action!
App Overview
The Nutrition App brings the Nutrition Calculator to iOS and Android in a native app format. Available as a companion to the online Nutrition Calculator, the app is downloaded in Apple's App Store or through Google Play and installed on the user's device. Then the user can browse the nutritional data for any of the foods offered on your online Nutrition Calculator.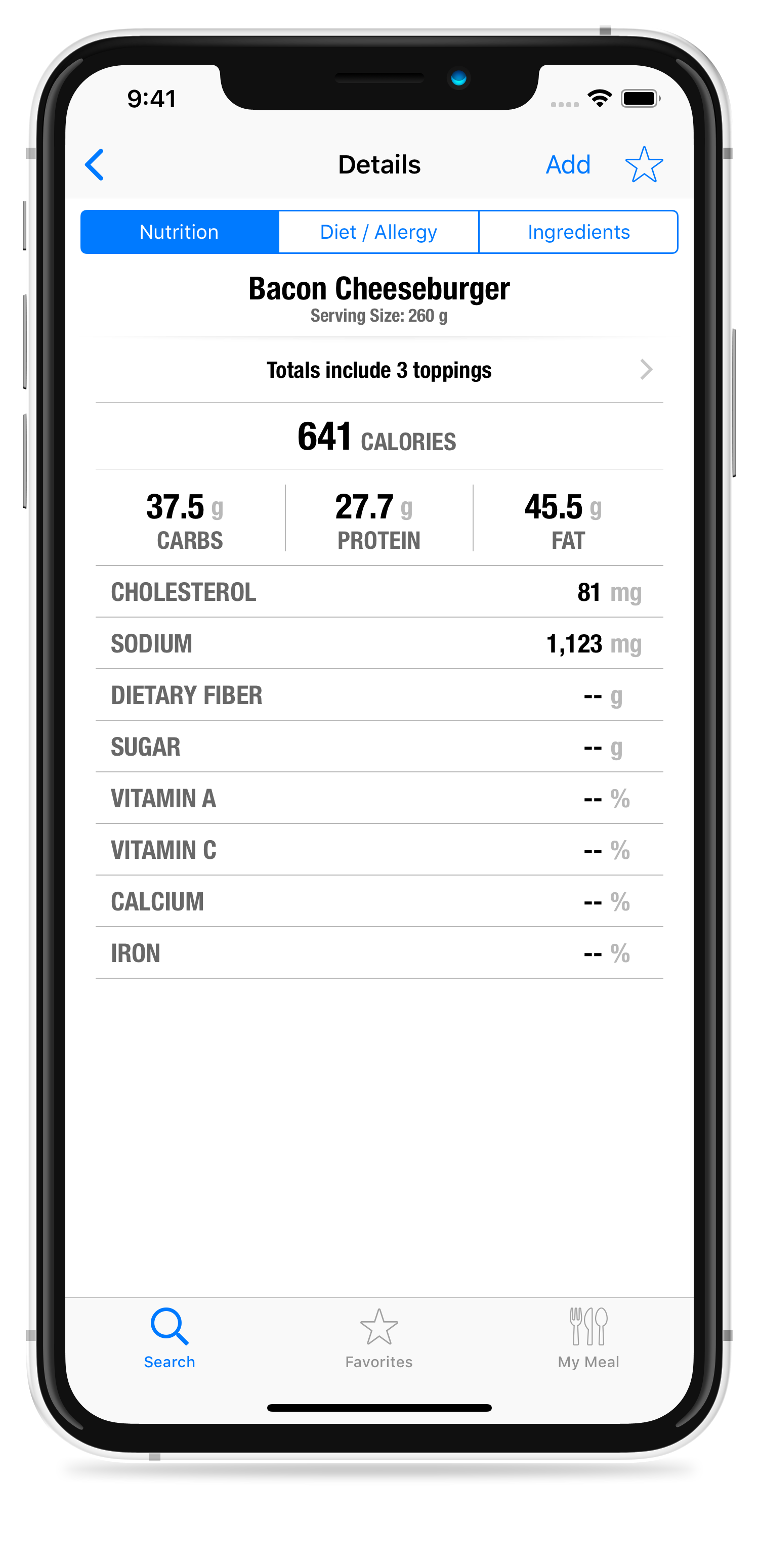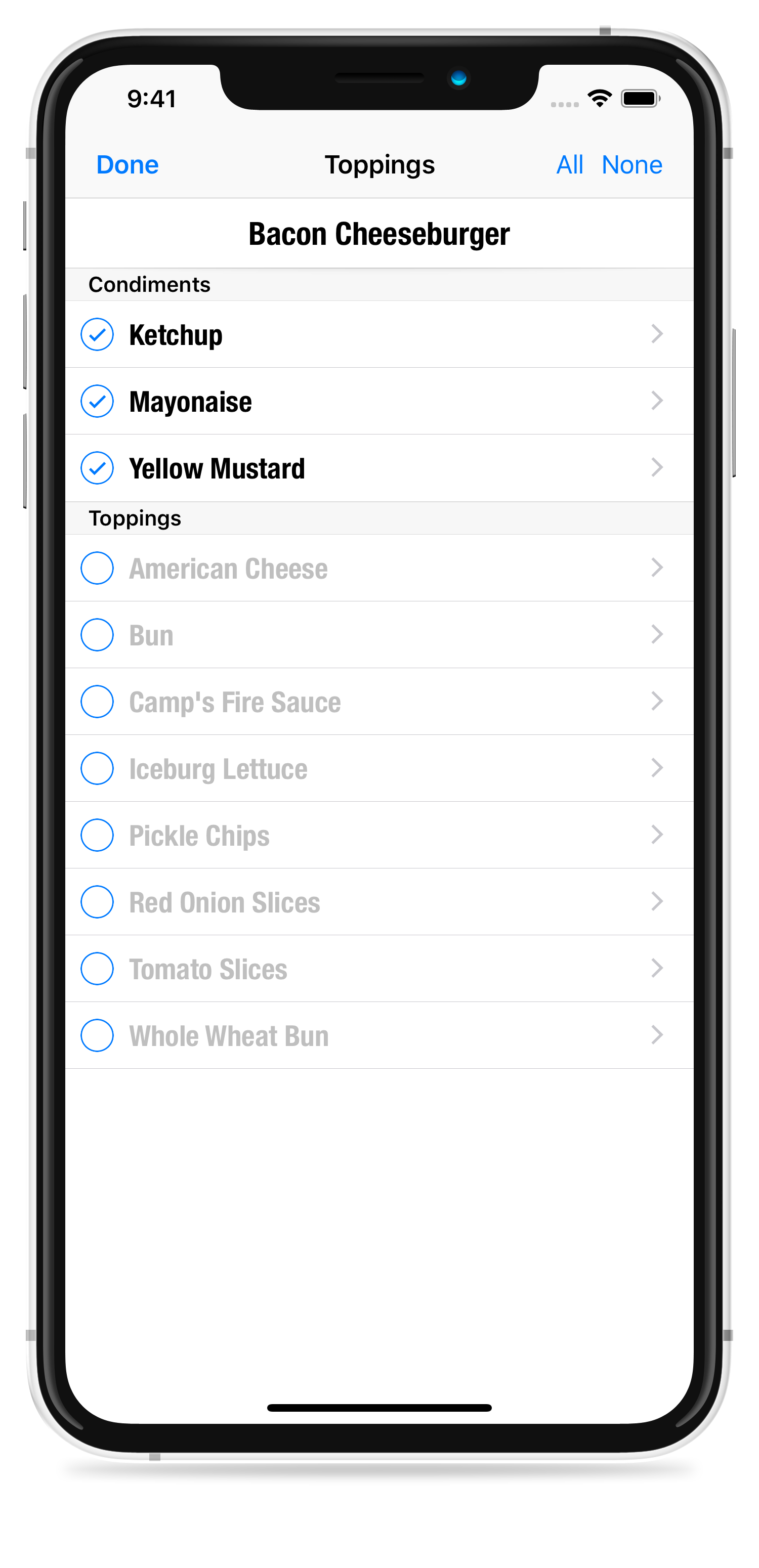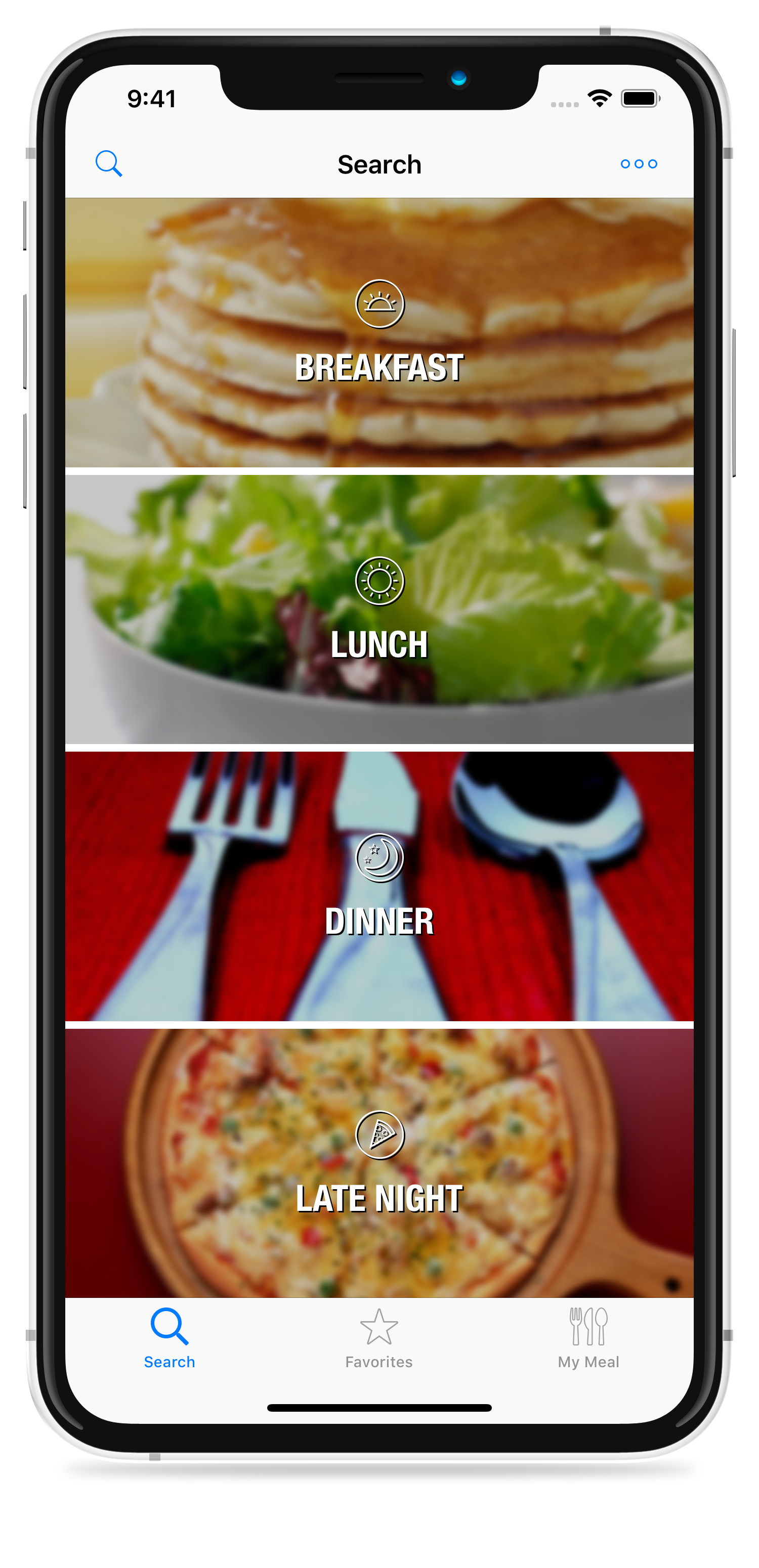 Search by Meal Time
Users can easily search for foods by mealtime within the Nutrition App.
Beginning with meal time (Breakfast, Lunch, Dinner or optional "fourth meal"), users drill down by restaurant or serving line, then to food groups, and finally to a list of foods.
From here, users select a food to review nutritional information, diet and allergy concerns, and ingredients if provided.
Search by Name
Users also have the ability to search for foods directly by name.
Searching by name yields results that contain the search query in any form (i.e., a search for "milk" returns results like "2% Milk," "Buttermilk Biscuit," and "Milk Chocolate").
As a bonus, the food details screen gives users the option to locate this food by displaying a list of restaurants or serving lines that offer this food at specific meal times.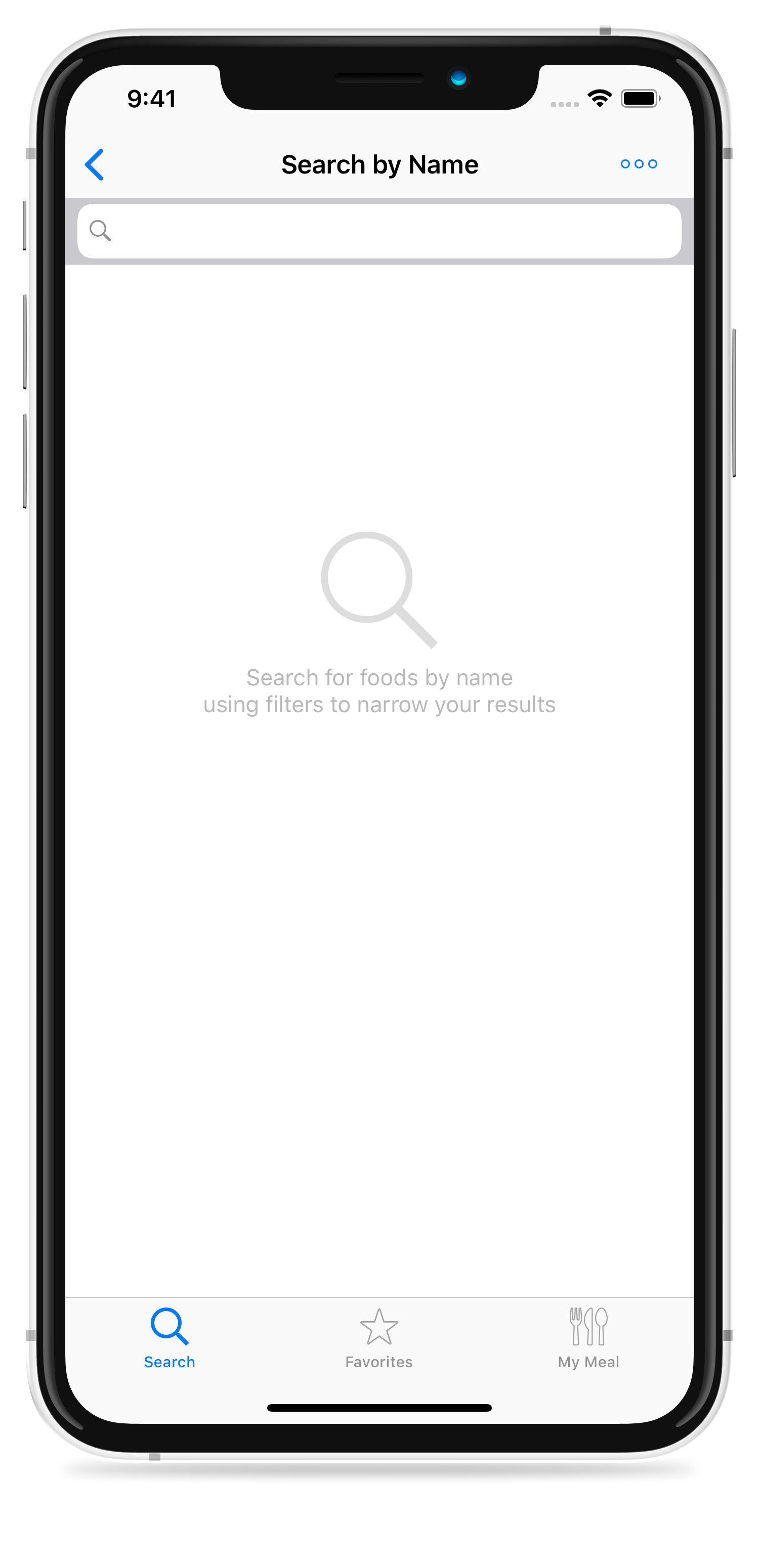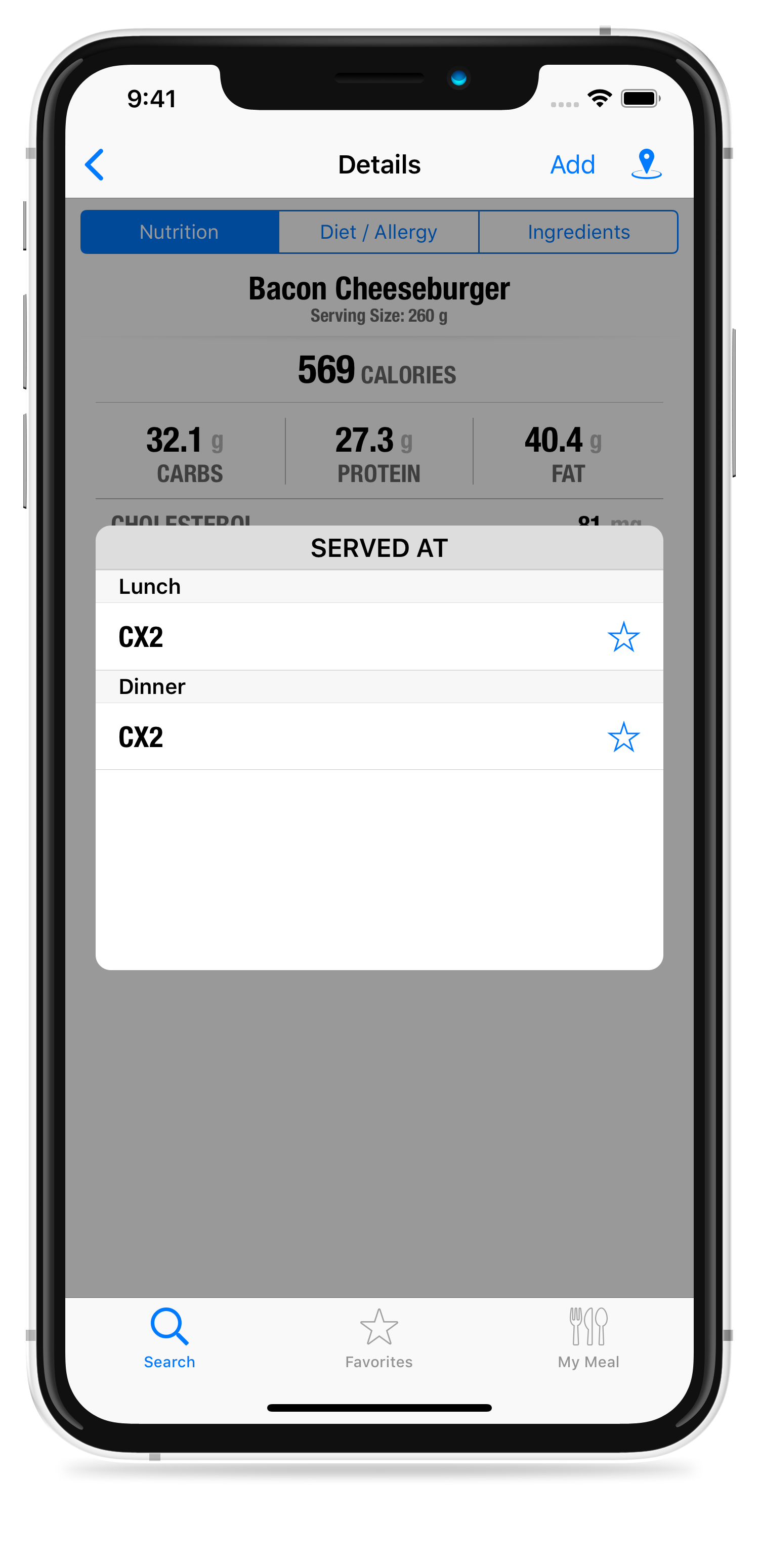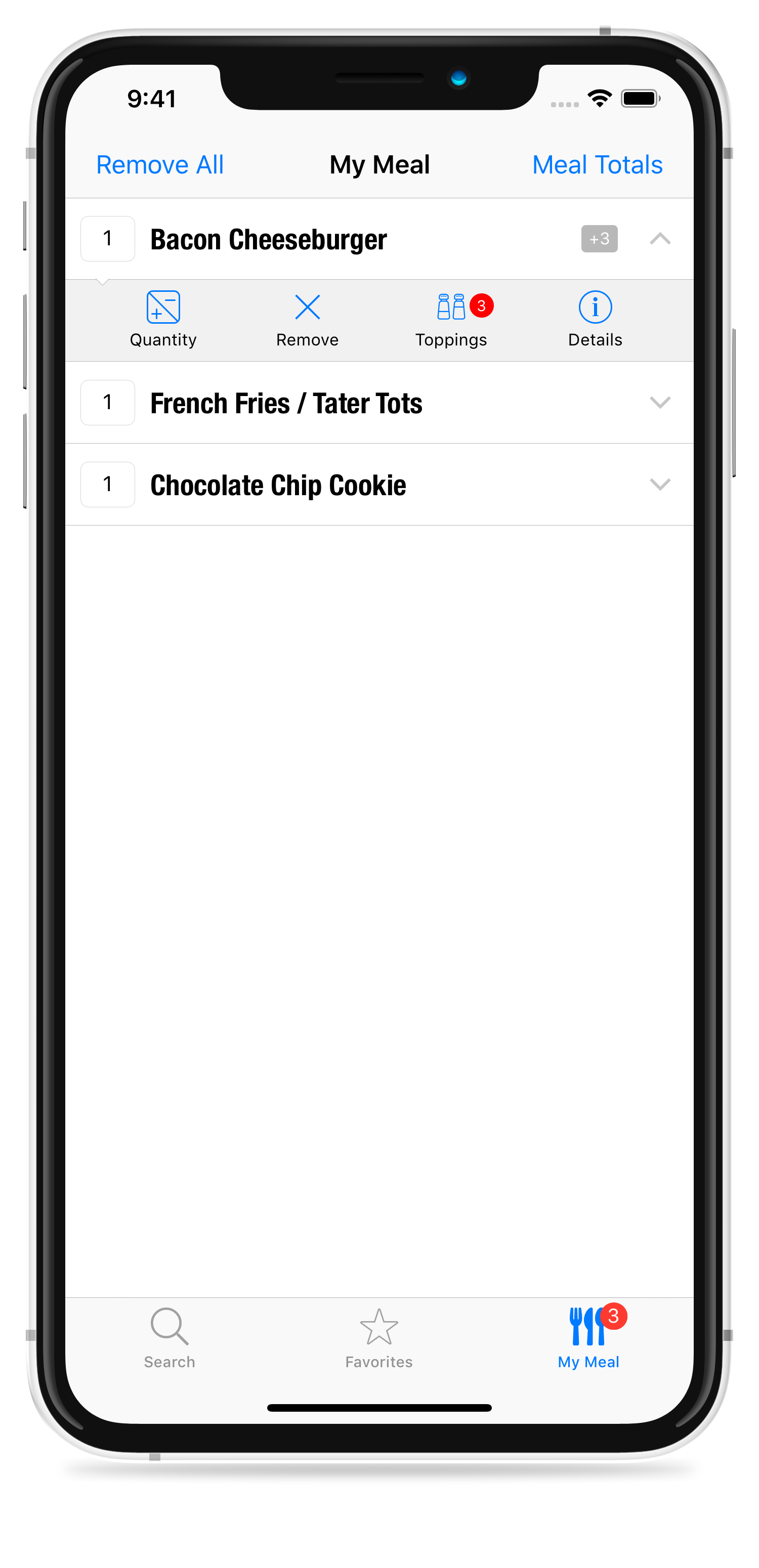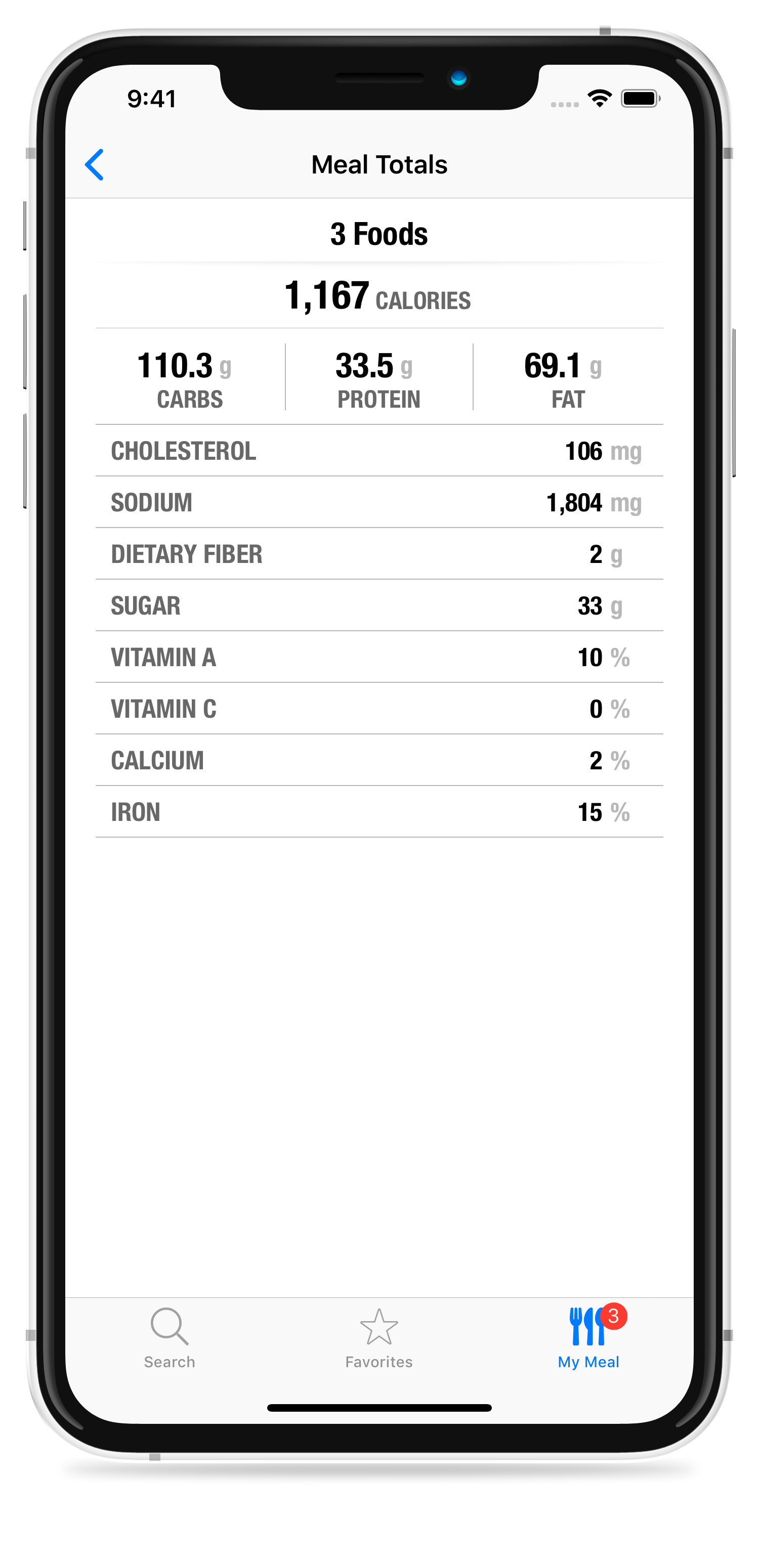 Build a Meal
The robust nature of the Nutrition App includes the ability to build a meal, customize foods' toppings and quantities, and review the entire meal's nutritional analysis on one screen.
Every food details screen gives users the ability to "Add" or "Remove" a food from their meal. Users may configure toppings and condiments before or after placing the food in their meal.
Users can create a list of favorite foods for quick future reference
Filters
At any point during a search, results can be filtered based on nutrient range or by diet and allergy concern.
Each search screen contains a three-dot icon to bring up the filters view. Here, users can restrict nutrients:
between 0 and 100 calories
at least 25 carbohydrates
Vegetarian: Yes
Soy: No
Plus users can create complex filters with multiple nutrient ranges and diet/allergy icon statuses.
Users can easily toggle the filters on and off with the switch at the top of the screen. All results are shown with disqualified foods grayed out.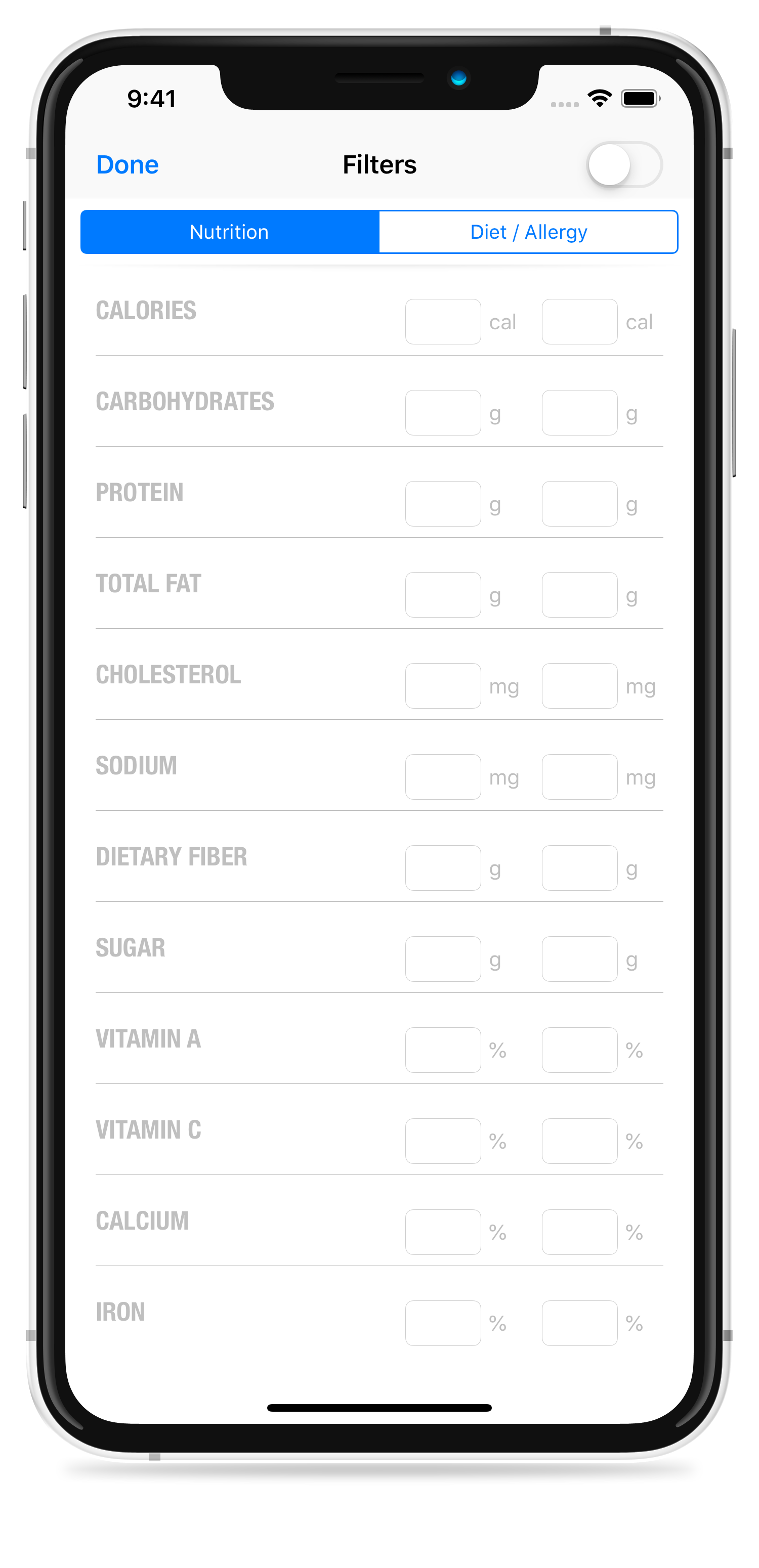 iPads & Tablets
The Nutrition App is natively designed for iPads and tablets. Made to look and function like the online Nutrition Calculator, the Nutrition App for larger devices takes advantage of the extra screen real estate.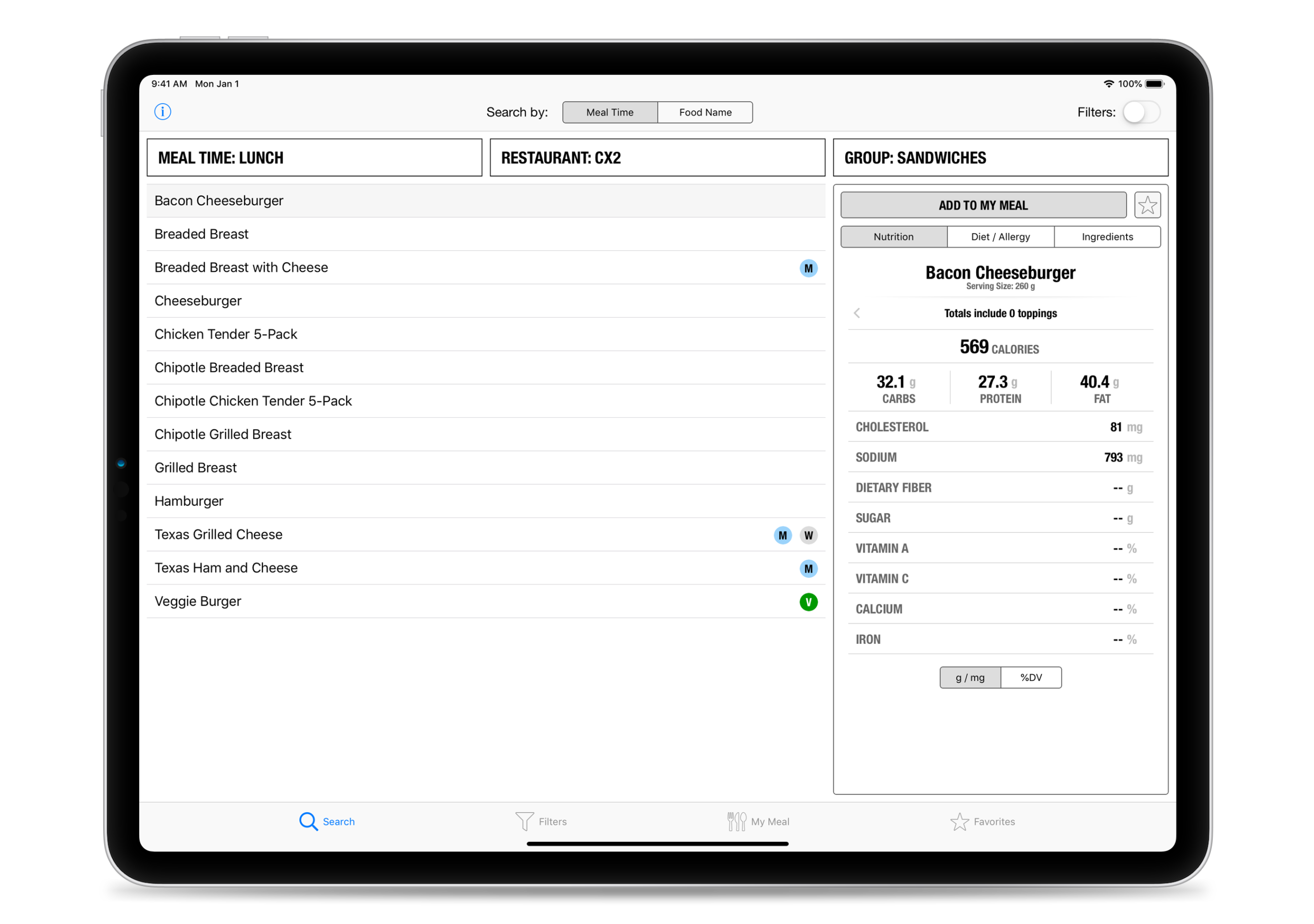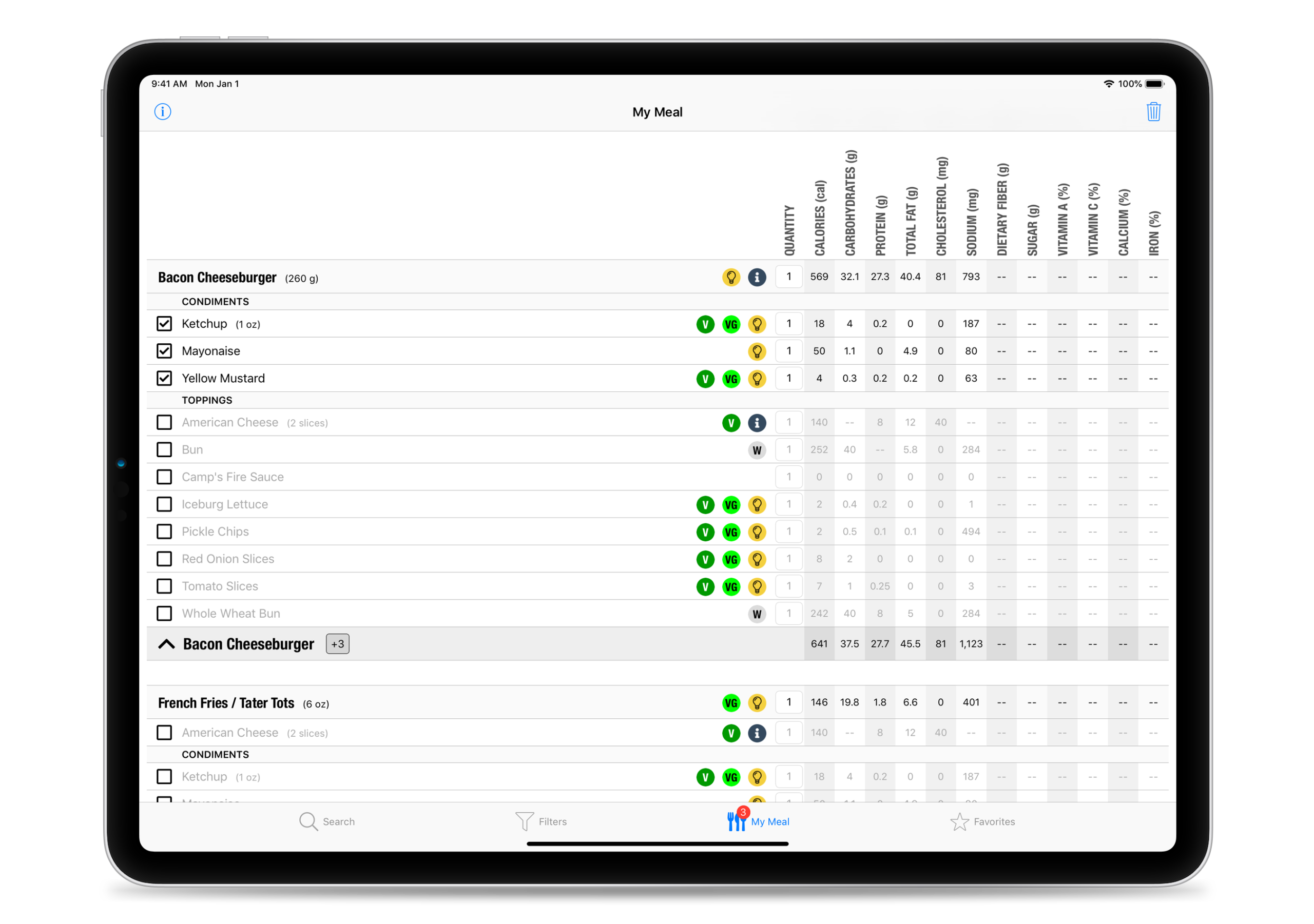 Download a version of the app to your phone or tablet
Turn the Nutrition App into a kiosk to run on an iPad in-unit. When run in kiosk mode, the Nutrition App allows users to search, filter, build, and review a meal, but eliminates the ability to favorite foods since it is being run in public.
A user can finish using the kiosk, and the app will reset itself after a specific period of time. And for users who want the app on their smart phone or tablet, kiosk mode offers QR codes users can scan with their phone or tablet camera to be taken directly to the the App Store or to Google Play.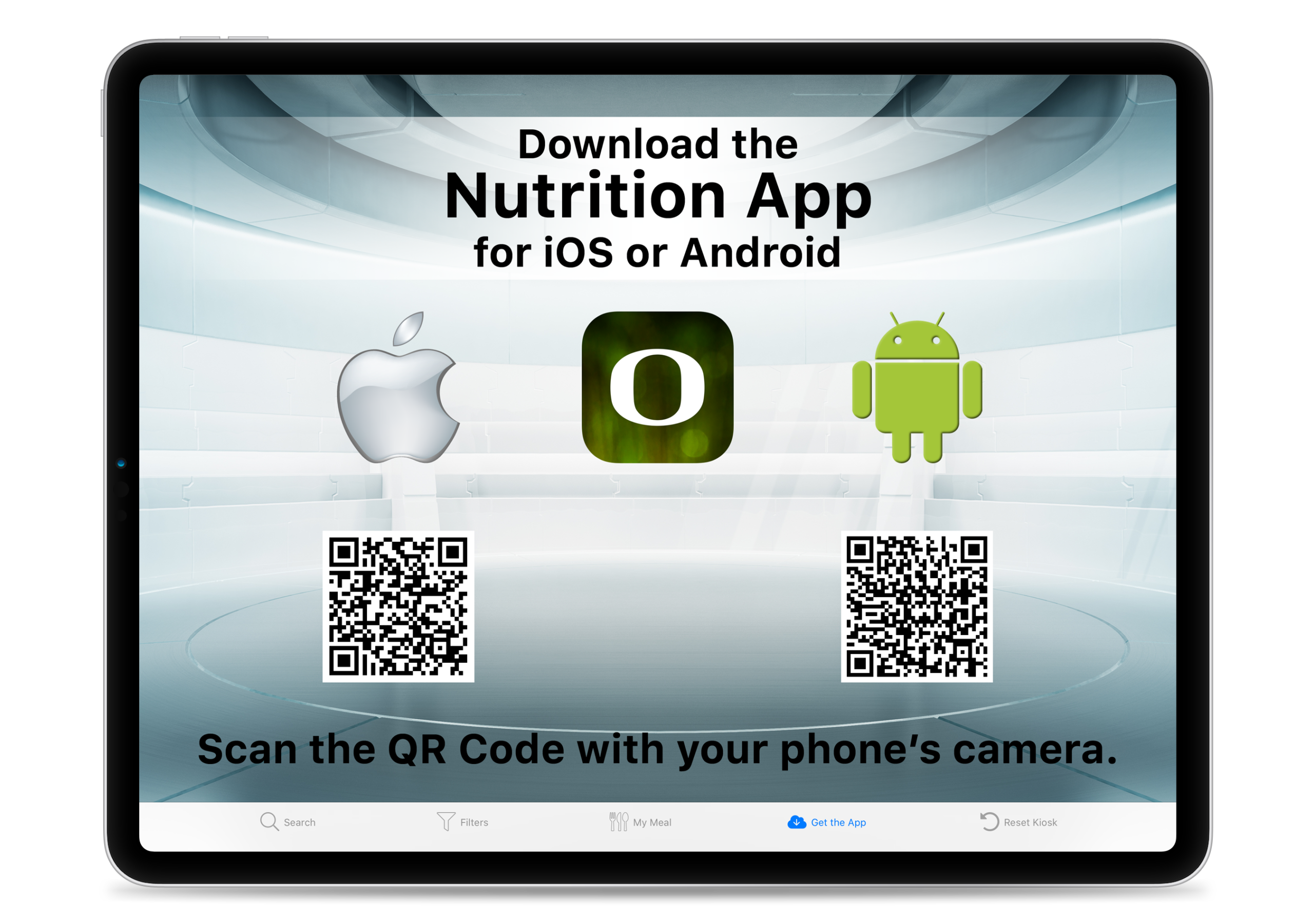 The Nutrition App allows you to customize a variety of areas within the app including the accent color (depicted as blue in the iOS screenshots), app icon, and launch screen.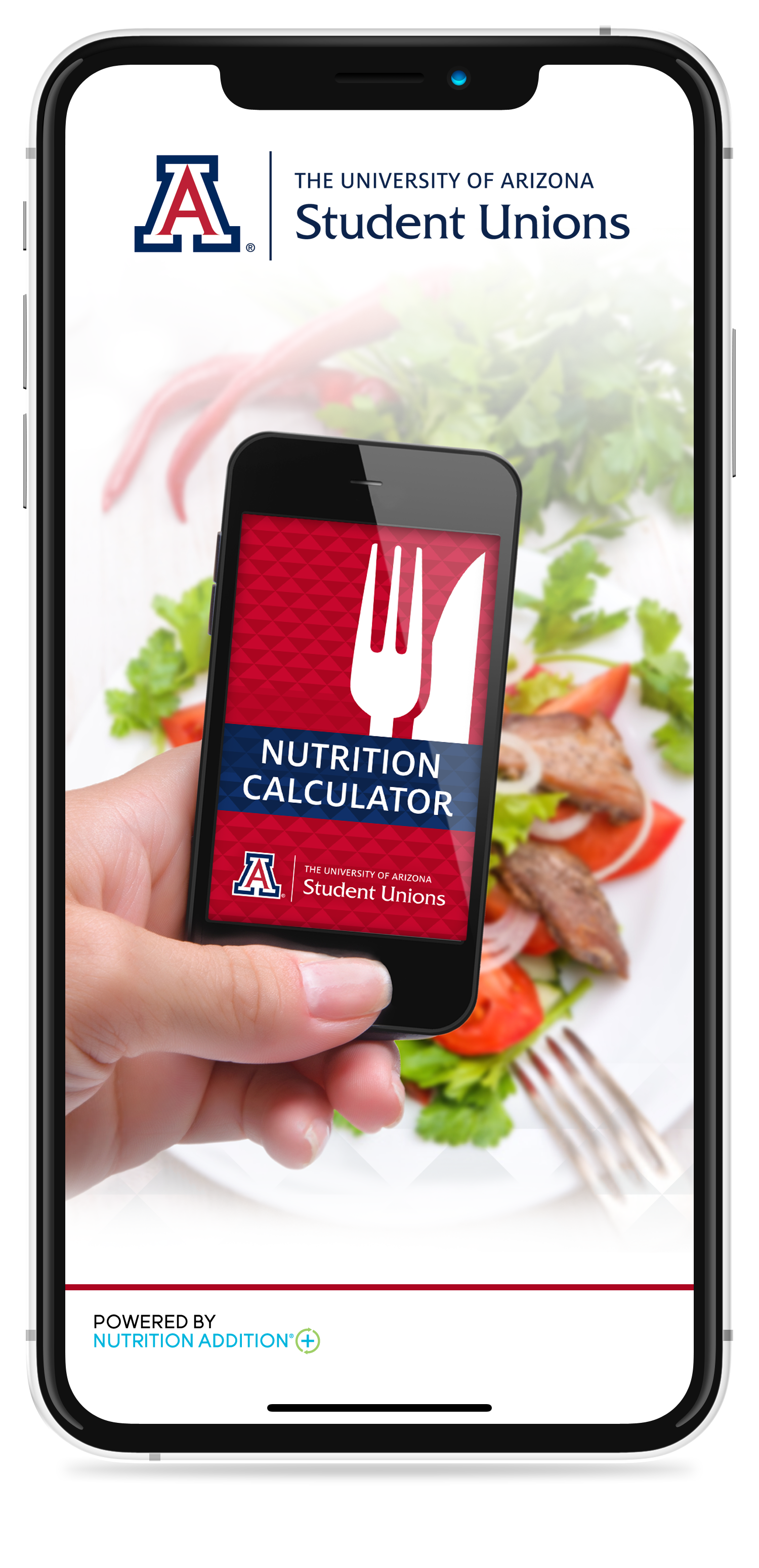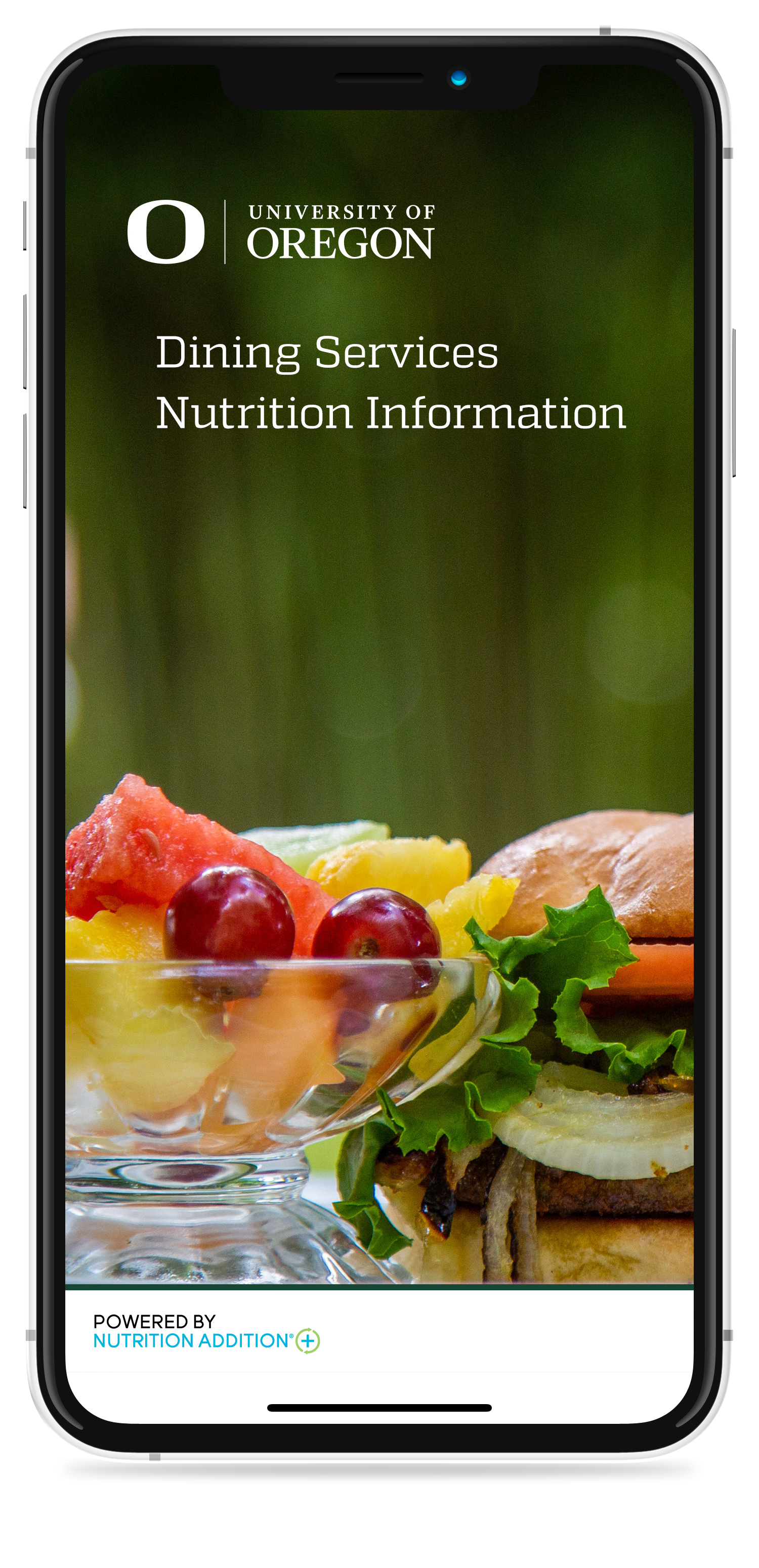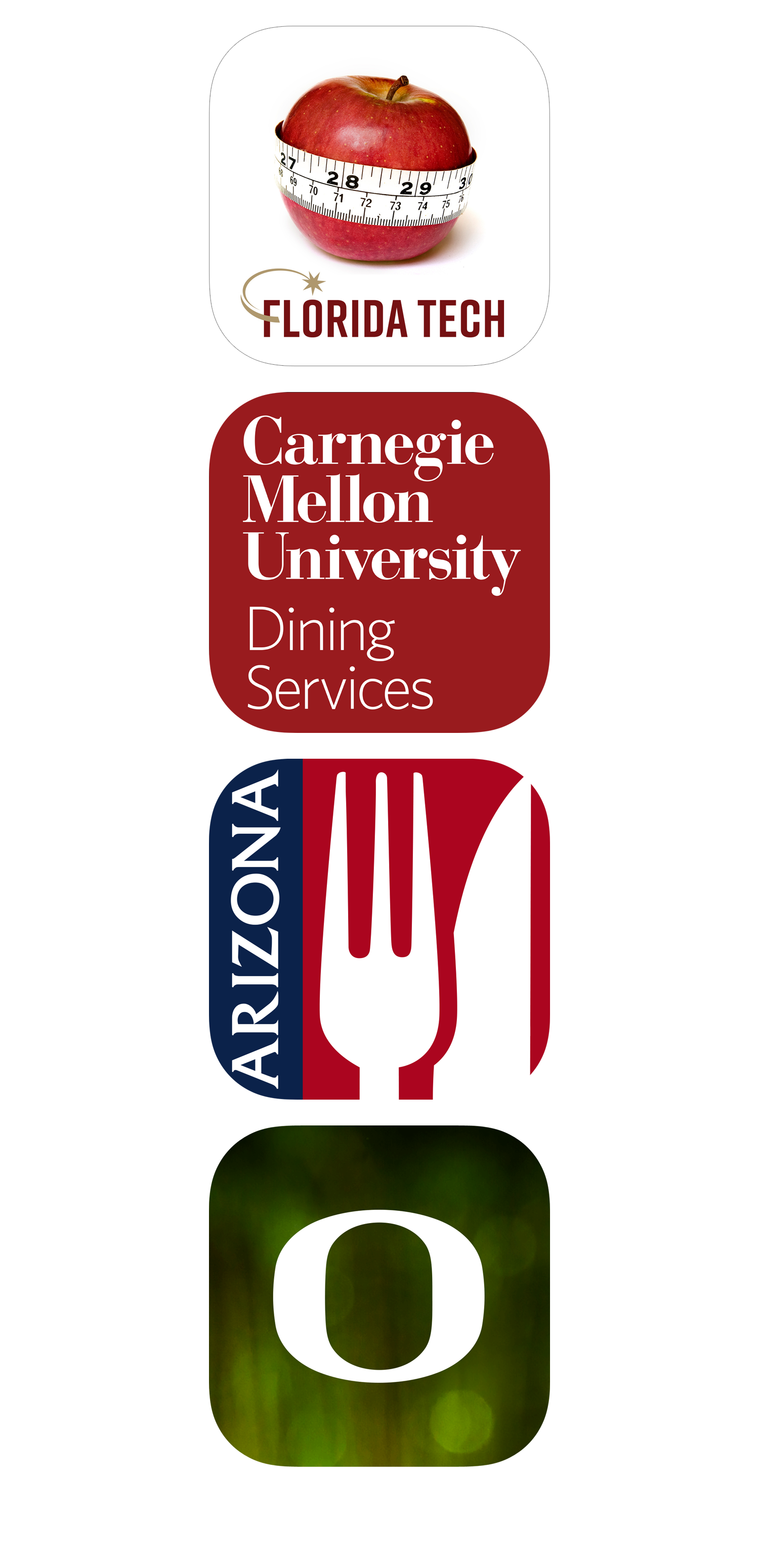 Bronze
$239 monthly
5 Concepts
5 Control Panel Users
Phone Support
iOS & Android App
Unlimited App Downloads
App updated as OSes evolve
Silver
$269 monthly
12 Concepts
10 Control Panel Users
Phone Support
iOS & Android App
Unlimited App Downloads
App updated as OSes evolve