Overview
The Recipe Analyzer allows any food service operation to dynamically build recipes ingredient by ingredient from over 8,100 foods. Develop custom ingredients to more accurately represent your recipes. Easily exchange ingredients and recalculate totals on any number of recipes as often as you wish.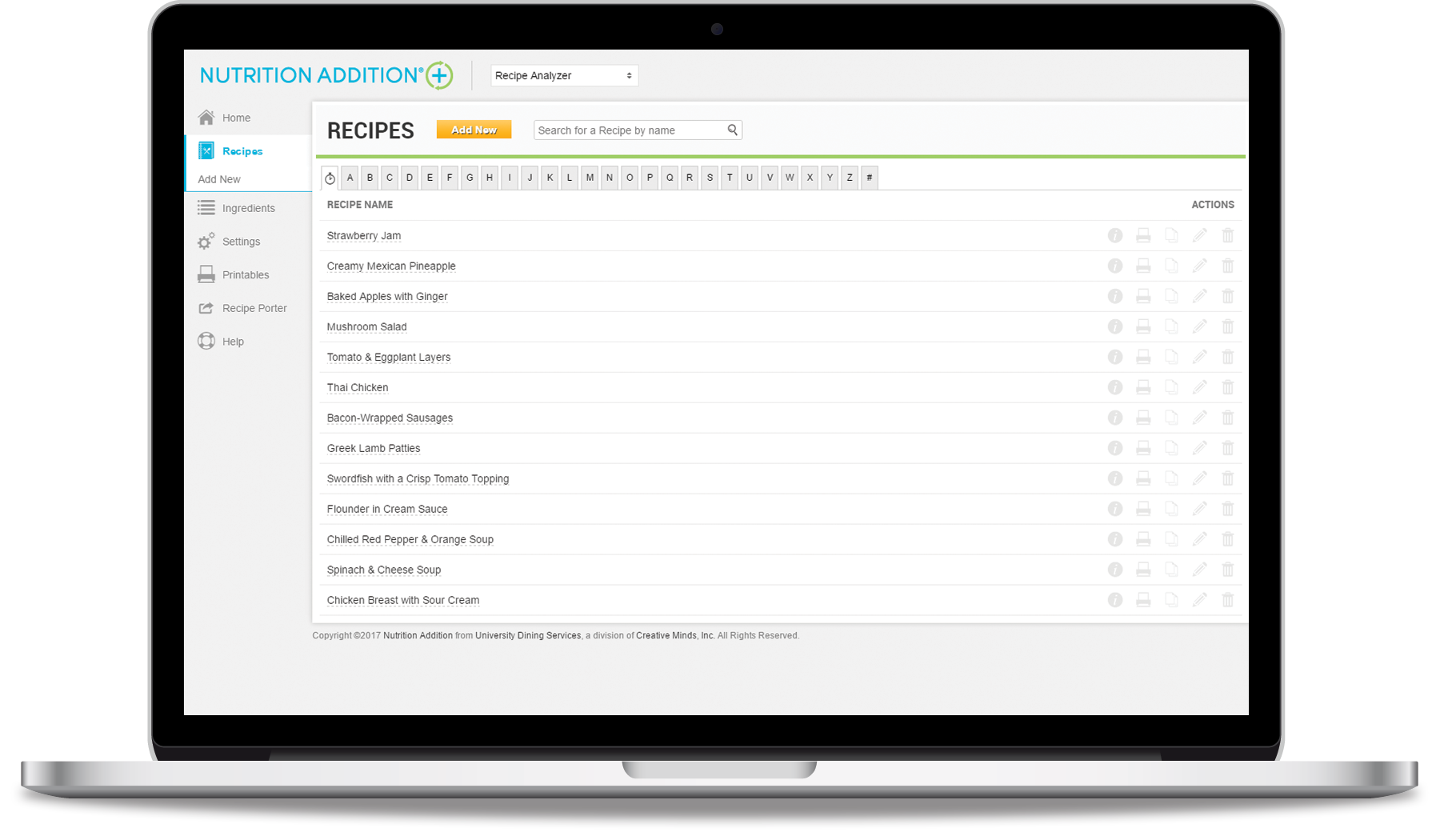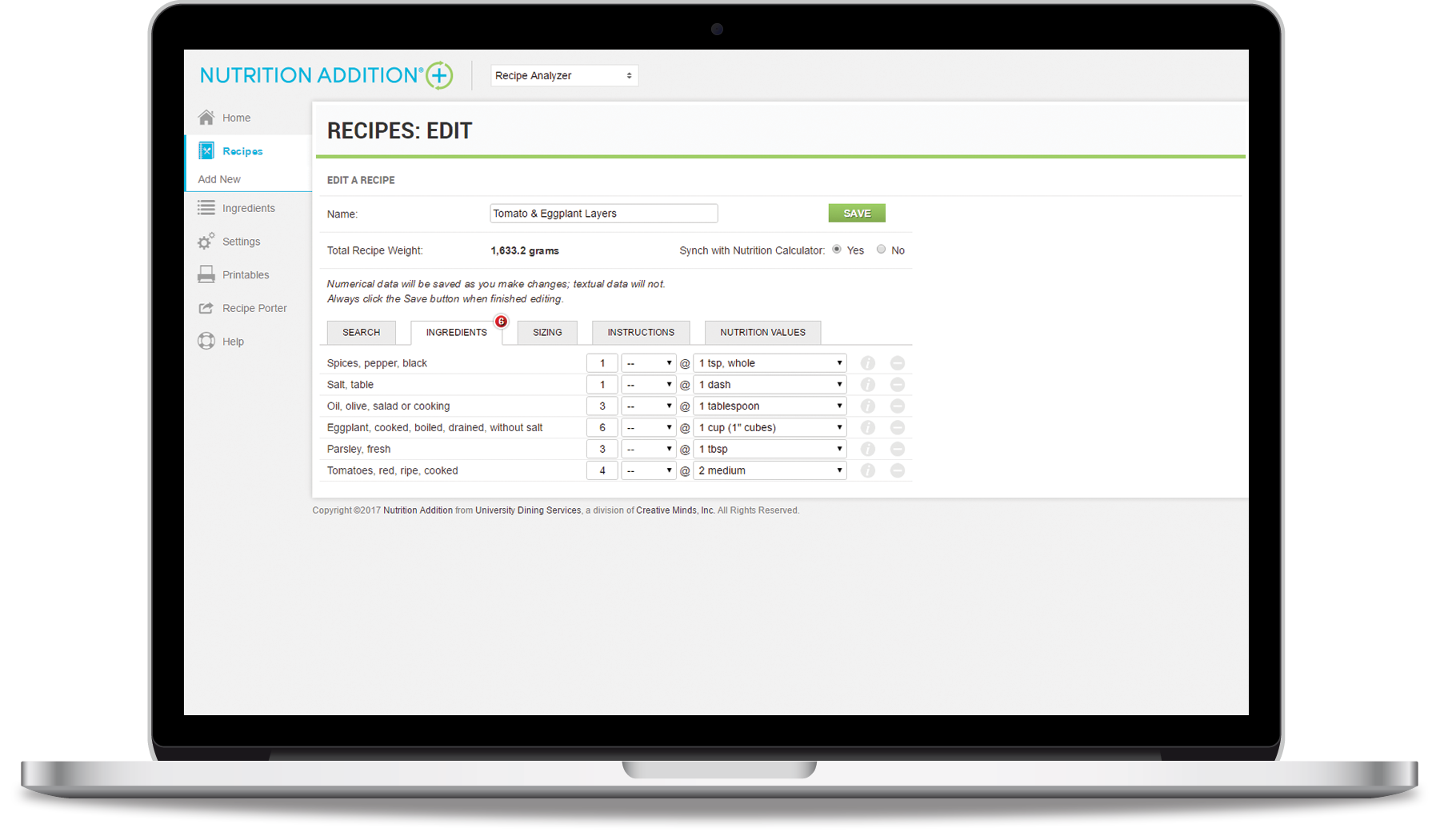 Ingredients
Capitalizing on the USDA-provided library of over 8,100 ingredients, the Recipe Analyzer allows you to add ingredients to your recipes from a dash of spice to a pound of meat.
Most ingredients offer various weights and portion sizes to accommodate your specific recipes. Everything is categorized by common groups, and the dynamic search feature makes locating an ingredient quick and easy.
Custom Ingredients
To accommodate recipes with regional or unique ingredients, the Recipe Analyzer allows you to enter the nutritional values for ingredients specific to your recipes.
For example, if you have a recipe that calls for a specific product from a specific brand or provider, you can use the nutrition label/information from the product itself and add it to your custom ingredient library. Add as many custom ingredients as necessary to give your recipe analysis more accurate results.
And if you ever edit a custom ingredient once that ingredient has been added to a recipe, changes to nutritional data, weights, and unit sizing propagate through all recipes, updating them with your latest information. This will save you from having to update each recipe individually.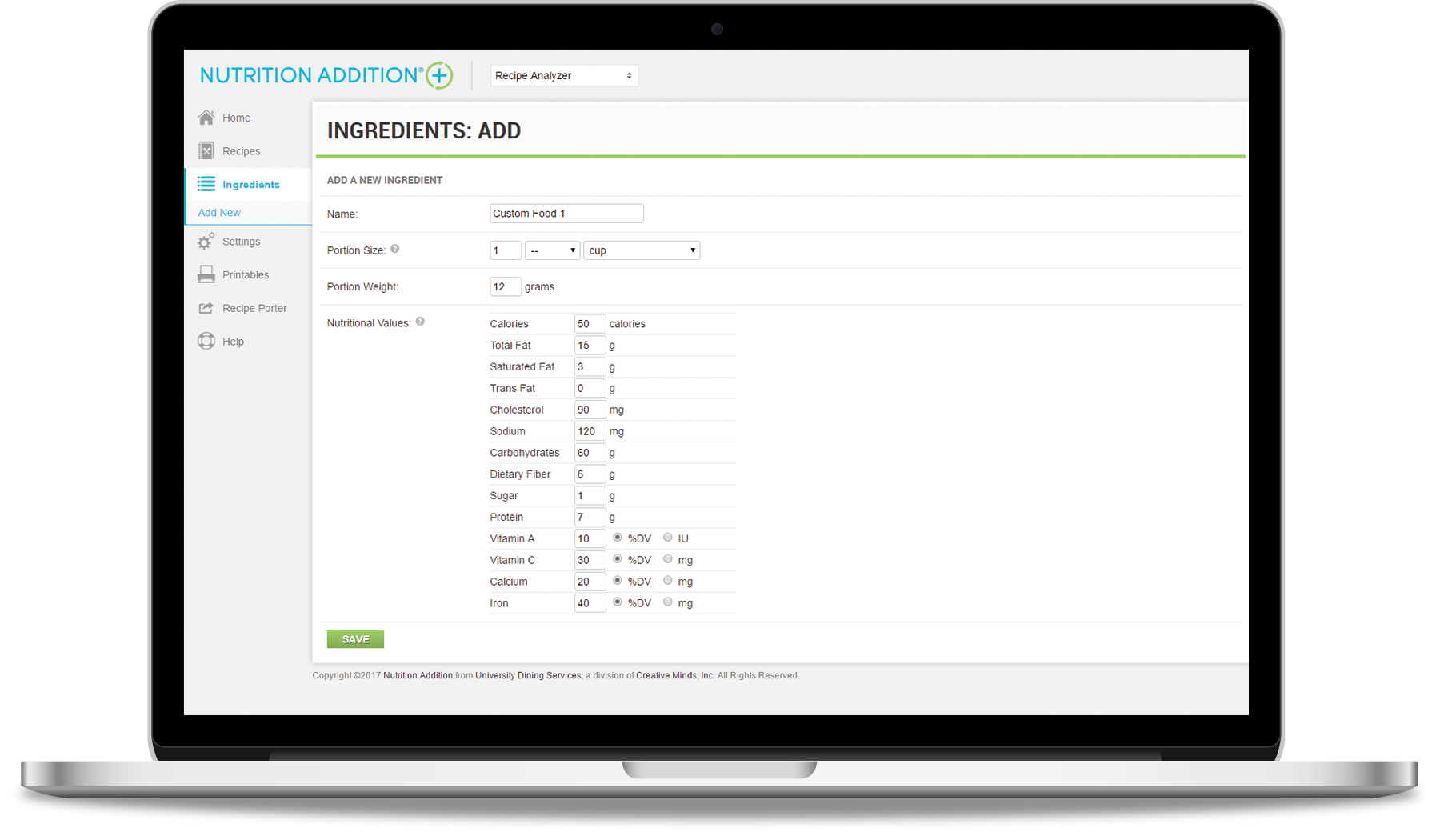 Extensions
As powerful as the Recipe Analyzer is, it also works with a variety of Nutrition Addition extensions to enhance its capabilities and functionality.
Conversion Calculator
Convert dry- and liquid-measurements plus metric/imperial.
Label Printer
Print FDA-style nutrition labels for individual recipes.
Preparation Printer
Creates prep sheets in PDF format.
Recipe Porter
Copy recipes to the Nutrition Calculator.
Visit the Extensions page for more information and individual pricing.
Nutrition Labels & Prep Sheets
Having the data in the Recipe Analyzer is great, but how about printing it out? What about creating prep sheets so each recipe can easily be followed in the kitchen? Nutrition Addition offers extensions that can help.
The Label Printer extension allows you the opportunity to generate USDA-style nutrition facts labels to print or to post in order to meet your marketing needs. These PDFs are "camera ready" for printing, and likewise, the Preparation Printer creates prep sheets in PDF format for easy emailing, archiving, or printing.
Nutrition Calculator Integration
The Recipe Analyzer was developed with Nutrition Calculator integration in mind, and syncing your recipe data to the Nutrition Calculator couldn't be easier.
Once your recipes are configured, install the Recipe Porter extension and run it: the system will copy the data over to the Nutrition Calculator and alert you of any potential problems or discrepancies which will require your attention. And this operation can be done as often as you wish as you add and develop recipes.