Overview
The Menu Manager is the best way to present menus to your customers in an online manner. A comprehensive solution for static menus, simple or complex menu rotations, single- or multiple-serving-line operations, or any combination of the above… The Menu Manager offers unparalleled flexibility in getting your menu cycle online — and getting it right!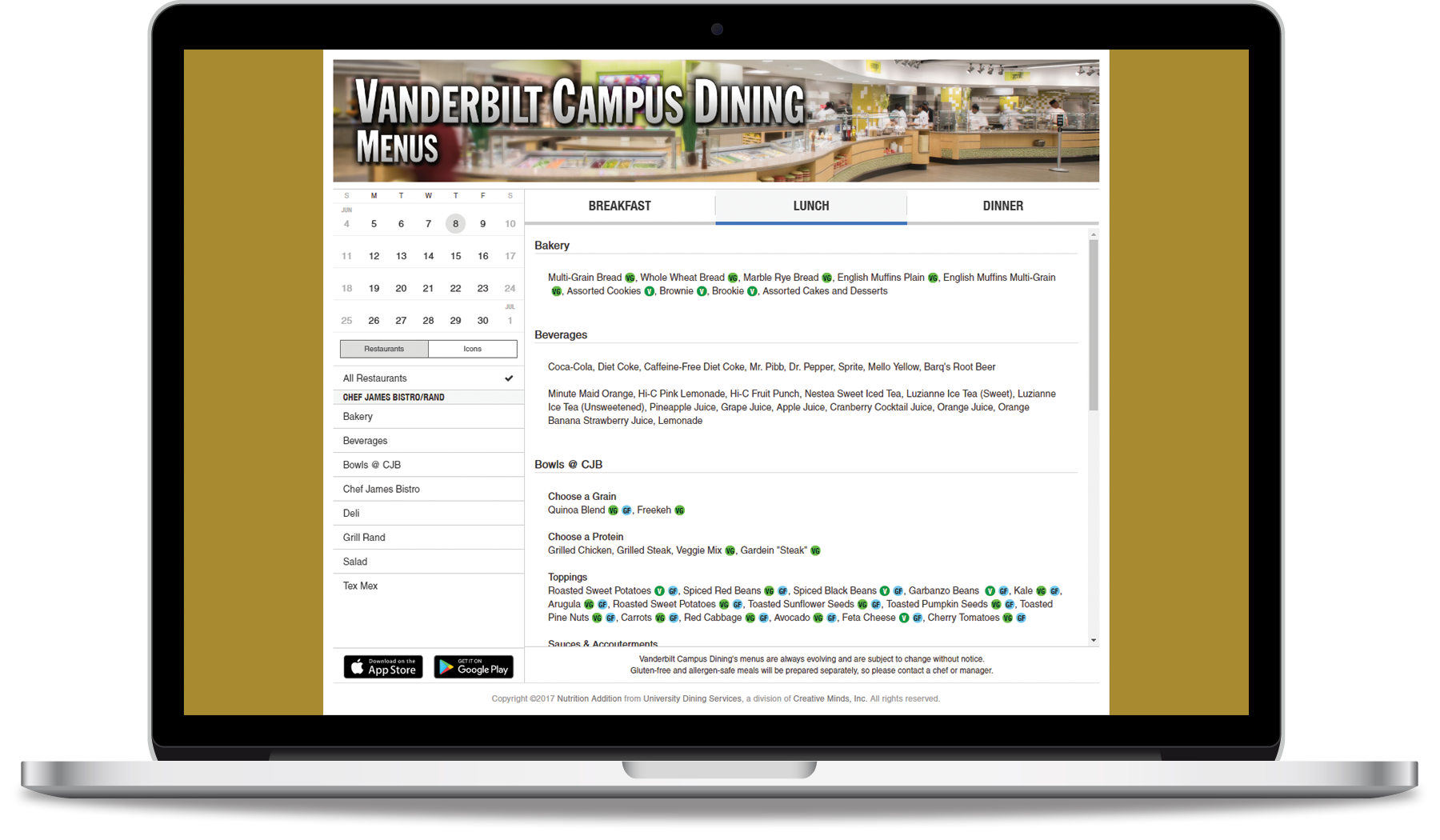 Interface
The Menu Manager has a webpage interface that can be linked-to on your website. Easy-to-understand calendars and user-friendly selections allow for all menus to show or just one.
Or if you wish to embed the Menu Manager in an iframe within a page on your site, the Inline extension can accommodate that.
Administrative Control Panel
As with all Nutrition Addition products, the Menu Manager comes with an extensive set of update tools in a control panel. These tools allow you to tailor the front-end design to meet the needs of your food service operation in a custom environment:
set rotations that run every day, or only weekdays
set rotations that rotate three menus on Saturday and every fourth Saturday, the cycle repeats
set rotations that serve Monday through Friday but number Saturday and Sunday skipping those menus
set special events that replace the normal menu offerings
indicate vegetarian, vegan, gluten-free, and organic options for any food you may serve
Extensions
As powerful as the Menu Manager is, it also works with a variety of Nutrition Addition extensions to enhance its capabilities and functionality.
Additional Custom Icons
Use up to 5 more unique icons.
Digital Signage Feed
Power digital signage with a JSON or RSS feed of menus.
Inline
Embed the Menu Manager in a page on your website.
Visit the Extensions page for more information and individual pricing.
Nutrition Connection
Clients that use both the Nutrition Calculator and the Menu Manager have the ability to display nutritional data in the Menu Manager.
Accessible in the administrative control panel, menus are configured with a list of foods, and each food can be linked to a food in the Nutrition Calculator. So when you update nutrition information, it updates in the Menu Manager as well.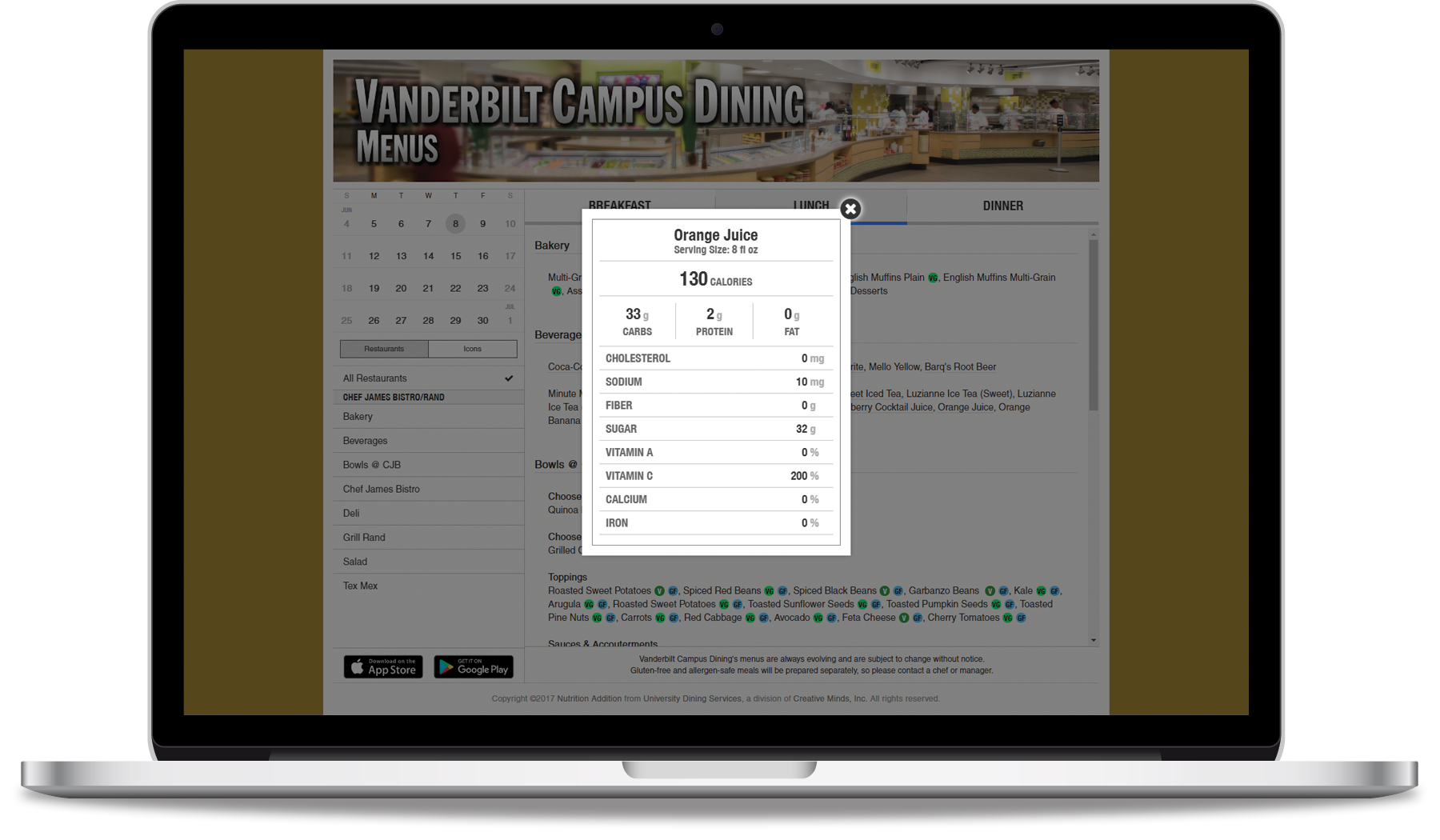 Diet & Allergy Icons
Users with special dietary concerns can easily be accommodated with the Menu Manager. Vegetarian, vegan, gluten-free, organic, kosher, and halal icons are included by default. Icons also denote the eight most-common allergies (milk, egg, peanut, tree nut, fish, shellfish, soy, and wheat). And if you have a special icon you desire to incorporate, that can happen too, whether it's sugar-free, smart-choice, or a special franchise your program is promoting.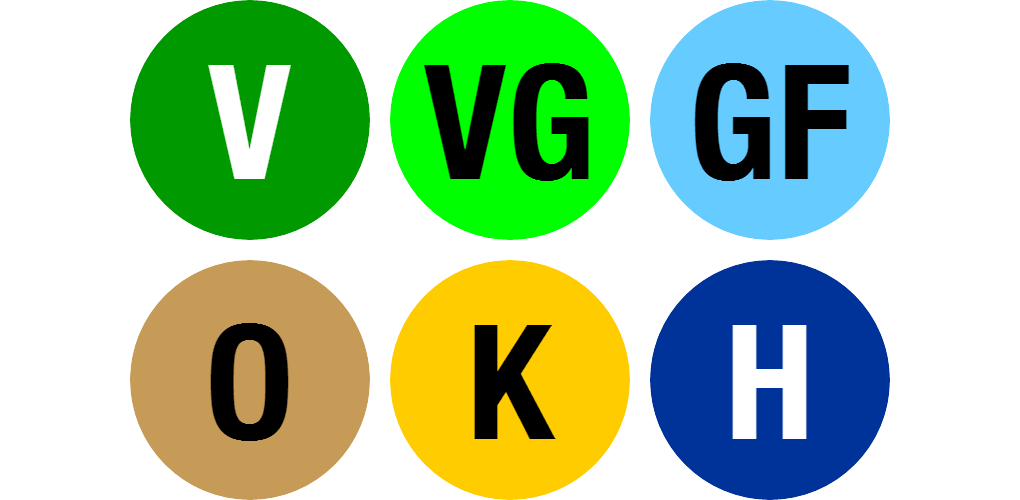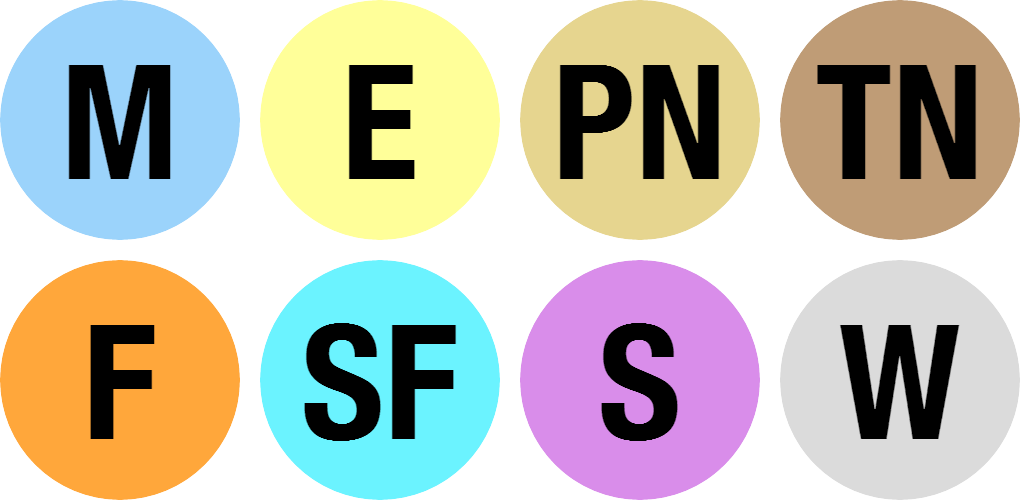 Allergy and dietary icons can be customized to any color and any label. For example, if you prefer to say "Made without Gluten" versus "Gluten Free," that is possible, and you can even use a custom image for any of the icons if you need to say more than the 1- or 2-letter default.
Responsive Design
The Menu Manager has been developed to be responsive to different screen sizes. Built on the bootstrap mobile-first responsive framework, users of phones and tablets will have as functional an experience as users of desktops.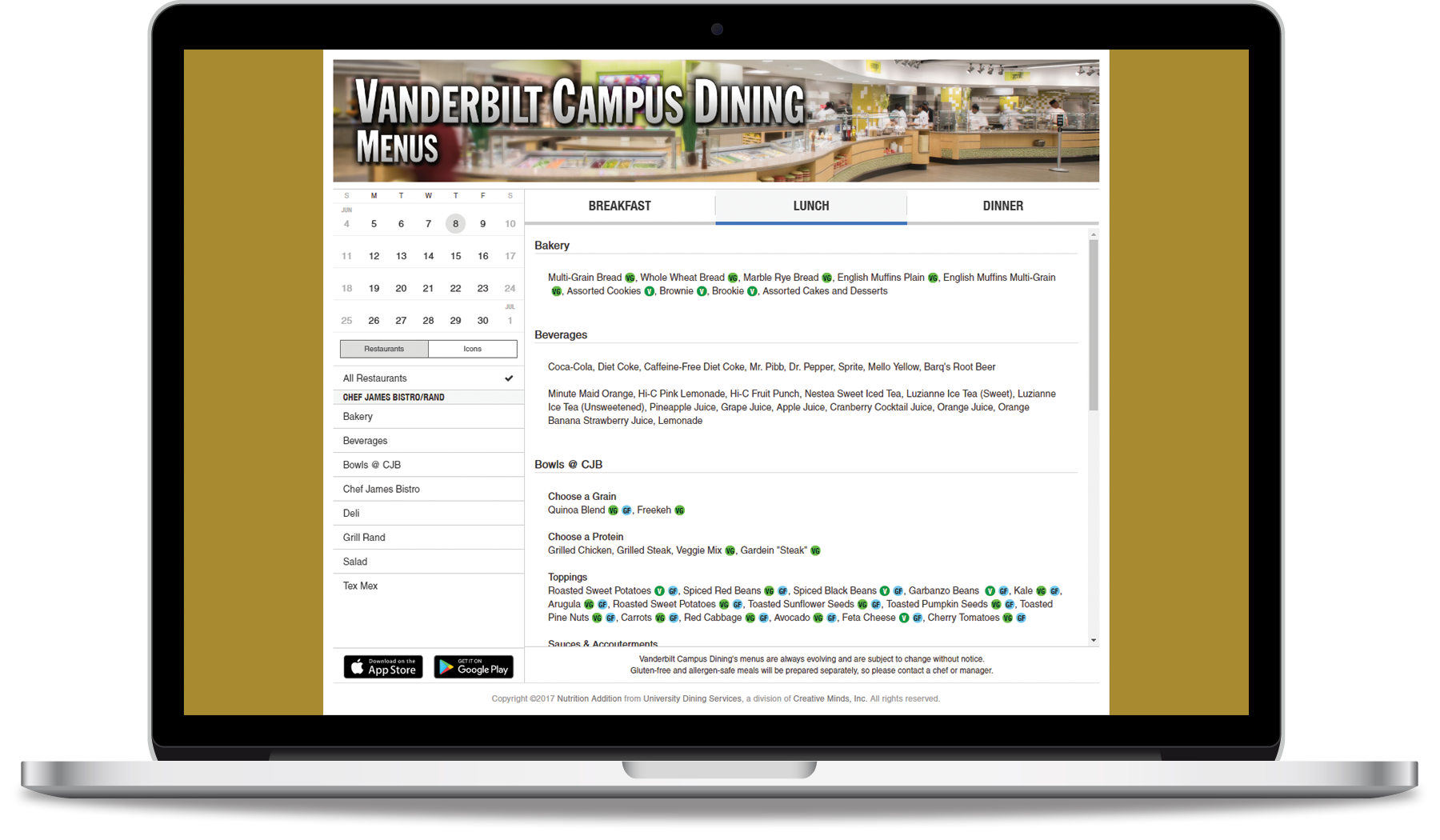 Custom Styling
Since the Menu Manager lives on the Nutrition Addition servers, we offer you the ability to customize its appearance. Each client has the ability to choose a custom header graphic and a custom background color to match your own website. Additionally, we offer a "super header" zone where you can prepend design elements that may be integral to your site's design.
Request a demo to see the Menu Manager and the control panel in action!
New Nutrition Addition customers will be charged a one-time $500 start-up fee.